Interns Wanted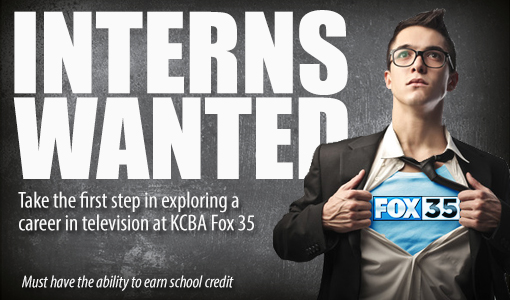 Do you love TV?  Have you wondered what goes on behind the scenes at a television station?  If you've been looking for a way to get your foot in the door in television and have your creative talent shine through, then KCBA Fox 35 just may have a spot for you in it's internship program.
Interns assist with the day to day news gathering and marketing tasks for the television station.  As an intern you'll have an opportunity to integrate into the station's news gathering task, as well as report on breaking news and community events via the station website and social media outlets.  Both on-camera and off-camera internships are available.  You'll gain invaluable experience using social media in a professional setting for the purpose of marketing.  Don't let this opportunity pass you by.
Internships are available for college students and graduating high school seniors. You must demonstrate the ability to obtain school credit for your work as a prerequisite for consideration.  Just fill out the form below to start the process.