Community Calendar Santa Cruz
May 19th, 2019
Aptos/La Selva Firefighter's Annual Pancake Breakfast
The Aptos/La Selva Firefighters Local 3535 will be holding their annual Pancake Breakfast on Sunday, May 19th (the weekend after Mother's Day). Enjoy pancakes, eggs, bacon, and all the fixing's served up by Aptos/La Selva's finest! The breakfast will be held at the La Selva Beach Clubhouse at 314 Estrella Ave, LSB, from 7:30 AM to 11:30 AM. Tickets are $10 for the breakfast, with kids 5 and under free. Donations at the breakfast benefit such worthy charities as Jacobs Heart, American Cancer Society and the Burn Foundation.
For more information, please visit http://www.aptosfire.com/.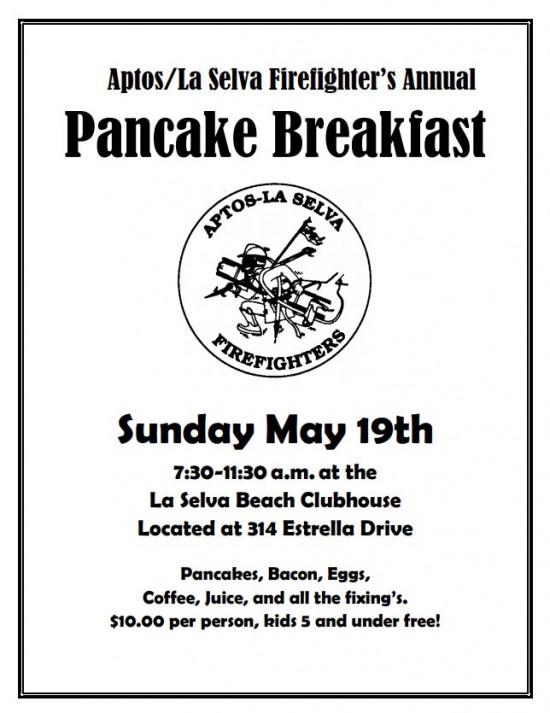 June 1st & 2nd, 2019
10th Annual Redwood Mountain Faire
Roaring Camp
Location: 5401 Graham Hill Road, Felton, CA 95018
The 10th Annual Redwood Mountain Faire returns Saturday and Sunday, June 1& 2, to Roaring Camp in Felton. An amazing line-up of 22 bands on two stages, juried arts and crafts, memorable kids' activities, and reasonable prices beckon all ages. Great food, inspired local micro-brews, wines & ciders, and entertainment surprises round-out the magic. The beauty of the expansive oak-shaded meadow, bordered by vendors' booths, with its big stage, and the intimate Creekside Stage nestled among trees and picnic tables – all embraced by a redwood forest backdrop – enhance the unique experience. Faire-goers will find a favorite genre of music among bands with unique and exciting style blends, including The Brothers Comatose, The Main Squeeze, Big Sam's Funky Nation, Dustbowl Revival, Melvin Seals with The China Cats, Edge of the West, Jesse Daniel, Elliot Peck, Rainbow Girls, Soulwise LOCAL, One Grass Two Grass, and eleven more. With no easy time choosing between Sunday and Saturday's line-up, plan to come both days, all day, rain or shine, for a perfect weekend at a discount price. The Redwood Mountain Faire is not just a memory-making, feel-good event. It has provided almost $350,000 to over 20 Santa Cruz County nonprofit, school, and service organizations since 2010. Everyone organizing and staffing the Faire is a volunteer, making this possible despite the bargain price to attend: Adults $25 in advance ($30 at the gate); Teens/Seniors $20 advance ($25 gate); children 12 and under free. Two-day pass: Adults $45 advance ($50 gate), Teens/Seniors $35 advance ($40 gate).
Discount tickets, the full music and arts line-up, and information about the Faire's beneficiaries, may be found at www.redwoodmountainfaire.com.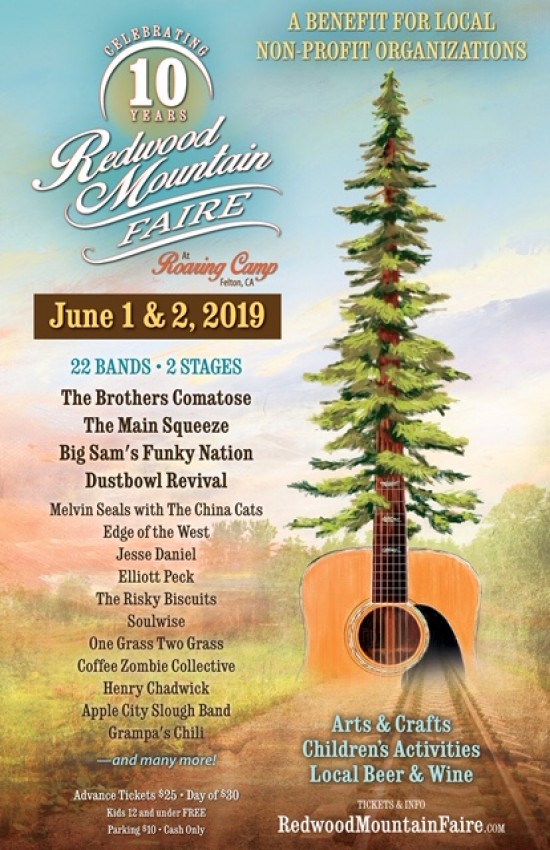 June 8th, 2019
MOD's Casino Night Fundraiser & Patrice's Retirement Party
Time: 5:00pm – 9:30pm
Location: Santa Cruz Children's Museum of Discovery in the Capitola Mall
The community is invited to a Casino Night Fundraiser in light of the Museum's current volunteer
Executive Director, Patrice Keet's retirement. The event will take place on Saturday, June 8 from
5 – 9:30 pm at the Santa Cruz Children's Museum of Discovery in the Capitola Mall and will
serve as a retirement celebration and fundraiser for MOD's Sustainability Campaign.
Tickets cost $100/person and can be purchased at modcasinonightfundraiser.eventbrite.com.
Adults over 21 years only. There will be photo ops, aerial artists, special prizes for high game earners, silent auction, and retirement festivities at the Casino Night Fundraiser.
For more details, please visit facebook.com/events/387141571840644/. For more information on MOD's Sustainability Campaign, please visit SCCMOD.org.
Email your community events at least two weeks in advance to: KCBACalendar@entravision.com