Community Calendar Salinas
September 23rd, 2018
Sacred Heart Church Parish & School International Festival
Time: 10:00am – 5:30pm
Location: Corner of Market & Stone St. Salinas, CA
FREE ADMISSION. Entertainment, games, food and more! For more information, please call 831-424-1959.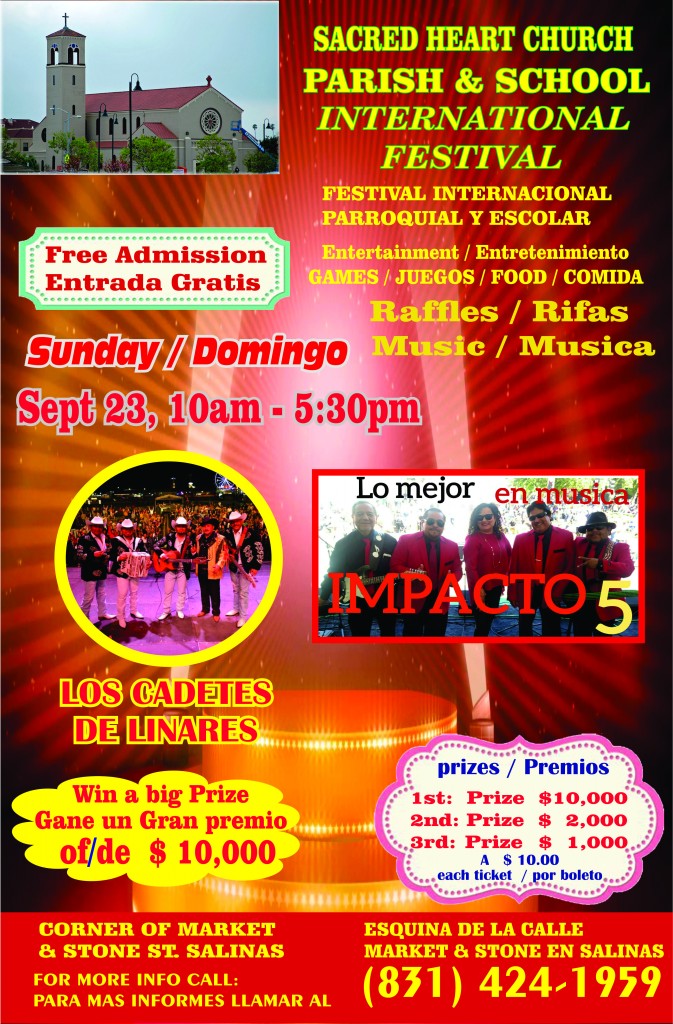 September 29th – 30th, 2018
California International Airshow
Salinas Municipal Airport
Time: 11:00 AM to 4:00 PM
Location: 37 Mortensen, Salinas, CA 93902
The California International Airshow returns to the Salinas Municipal Airport for its 38th year. Watch jaw-dropping aeronautical acrobatics from the USAF Thunderbirds, parachuting from the Liberty Jump Team, stunts from Metal Mulisha and more! There will also be military demos, military fly-bys and military/civilian aircraft displays. Make your plans to join us for a weekend of great family fun! We are also excited to introduce our new family friendly pricing with kids 12 and under now free. Gates open at 9am and show begins at 11am.
For more information, please visit http://salinasairshow.com/.
September 30th, 2018
Kid's Paint Day with Main Street Art
Main Street Art Studio and Gallery
Time: 11:00 AM to 1:00 PM
Location: Northridge Mall, 796 Northridge Mall, Salinas, CA
Main Street Art Studio and Gallery presents a free Paint Day for youth on Sunday, September 30. Kids from ages 7-13 can choose to attend one of the two classes. No reservations are required and availability is on a first come, first served basis. This hour lesson will provide participants with a beautiful piece of art that they can take home! In addition, watch as artists create a Kids' Cancer Awareness mural. Find the event located near the Kids' Play Area.
For more information, please visit https://www.seemonterey.com/event/kids-paint-day-with-main-street-art/6665/.
Email your community events at least two weeks in advance to: KCBACalendar@entravision.com