Community Calendar Monterey
May 26th, 2018
FREE Community Event: Sensory Beach Walk
Monterey Bay Meditation Studio
Time: 1:30 PM to 2:30 PM
Location: Monterey Municipal Beach, (Beach access across from Camino Aguajito), Monterey, CA
Monterey Bay Meditation Studio warmly welcomes you to a Sensory Beach Walk. Join us for a saunter on the beach. We'll begin and end with some talking and sharing, with silent and mindful walking in between. Take in sounds, smells, sights, the feel of the wind and the sand…and the internal landscape of your thoughts and emotions. Please dress warmly with layers. How to find us: We'll access the beach across from Chevron gas station at the corner of Del Monte and Aguajito in Monterey. You can park on Del Monte or on one of the small streets off of Aguajito. From the gas station, cross Del Monte and walk straight toward the beach. FREE. No need to register. Just show up and look for the Monterey Bay Meditation Studio flag!
May 28th, 2018
Memorial Day Remembrance Service in Monterey
Monterey Peninsula Branch 178, Fleet Reserve Association
Time: 10:30 AM – 11:00 AM
Location: Coast Guard Pier, Cannery Row and Spence St., Monterey, California 93940
On Memorial Day, Monday 28 May 2018 at 1030 hours, Monterey Peninsula Branch 178, Fleet Reserve Association will be holding a Memorial Day service on the Coast Guard Pier in Monterey in memory of all of our shipmates who have transferred to the staff of the Supreme Commander in the past year. We invite you to come and participate by adding the names of those you have lost in the past year. As part of the ceremony, we will be tossing a wreath upon the water in their memory, and you are invited to do the same. Please note that all wreaths and flower arrangements must be completely organic. No plastic or metal.
May 28th, 2018
Memorial Day "Concert on the Lawn" with the Monterey Pops
Naval Support Activity Monterey
Time: 10:00am – 1:30pm
Location: 1 University Circle, Monterey, CA 93943
Naval Support Activity Monterey, home of the Naval Postgraduate School, opens its gates to the public Memorial Day, May 28, for a free concert on the lawn with performances by the Monterey County Pops and the Cypressaires Chorus. The Del Monte gate opens to the public at 10 a.m. The Cypressaires Chorus will warm up the crowd from 11:15-11:45 a.m., in advance of the performance by the Monterey County Pops from noon until 1:30 p.m. Both groups will perform on the historic Hotel Del Monte sun terrace. Food and beverages will be available for sale. No outside food or drinks allowed. Guests are encouraged to bring blankets and chairs. Cars and pedestrians will enter through the Del Monte Gate. Guests 18+ must present a government-issued identification card, such as a state driver's license, to enter the base. Parking is free.
For more information, contact Naval Support Activity Monterey public affairs officer, Melinda Larson, mllarson@nps.edu or (831)656-3059.
June 23rd, 2018
Celebrating the Cherry 2018 – Annual Fundraiser
The Carl Cherry Center for the Arts
Time: 4:00-7:00 pm
Location: 4th and Guadalupe, 4th Ave, Carmel-By-The-Sea, CA 93923
Celebrating the Cherry, The Carl Cherry Center for the Arts annual summer fundraiser will be held on Saturday, June 23, 2018 from 4-7 pm at our gallery on 4th and Guadalupe in Carmel. Monies raised will help us continue to provide quality artistic, educational and cultural programs for the residents of Monterey County as well as safeguard the future of the The Cherry. This year we are honoring Professor Emeritus Elliot Ruchowitz-Roberts, Monterey Peninsula College, and Art Curator Amy Essick, Montage Health/Community Hospital of the Monterey Peninsula, for their ongoing contributions to the arts. The evening will feature a silent auction and raffle, food and wine, lively entertainment and photos highlighting the Cherry Center's 70 year history in Carmel-by-the-Sea. Please join us for this festive occasion!
For more information and to purchase tickets, please call 831-624-7491 or visit www.brownpapertickets.com.
Community Foundation for Monterey County
Big Sur Relief Foundation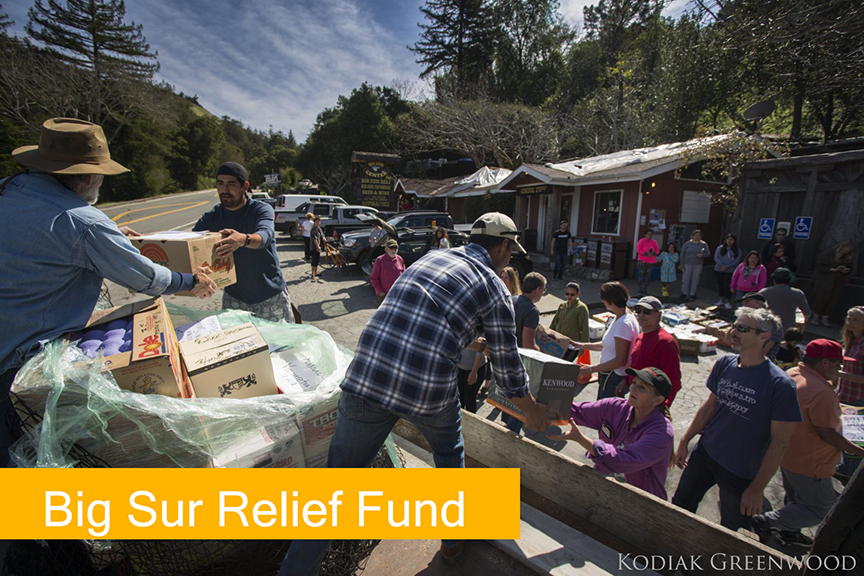 The devastating Soberanes Fire and this winter's heavy rains have caused tremendous hardship for Big Sur residents, employees and their families. HWY 1 is closed with massive mud slides, and Pfeiffer Canyon Bridge – the lifeline that connects the North and South – has been declared unsafe and has been condemned.
Iconic businesses like Esalen, Nepenthe, Deetjen's Big Sur Inn, Ventana, and Post Ranch are all temporarily closed. Over 1,000 Big Sur employees are out of work, and hundreds of families have been displaced. Thousands of people are in need of food, housing, and immediate assistance.
In light of these unique and challenging circumstances, several businesses have come together to raise funds to provide relief for local individuals and families. The Big Sur Relief Fund at the Community Foundation for Monterey County (CFMC) will provide relief and emergency assistance to those affected.
Donate Now
Your gift will support the affected residents and individuals working in Big Sur in Monterey County, California and is fully tax deductible. 100% of donations will be used for relief and assistance.
For more information on how to donate visit www.cfmco.org/BigSurRelief or
Mail a check:
Community Foundation for Monterey County
2354 Garden Road, Monterey, CA, 93940
"Attention: Big Sur Relief Fund"
Donate by Phone
Call 831.375.9712 Monday through Friday 8:30 AM to 5:00 PM
Contribute Appreciated Stock
Please contact Christine Dawson, Vice President of Philanthropic Services, for details at 831.375.9712 ext 126.
All donations to the Big Sur Relief Fund are tax deductible. Tax ID # 94-1615897
Email your community events at least two weeks in advance to: KCBACalendar@entravision.com