Community Calendar Monterey
March 24th, 2018
Annual Open House Saturday
Ke Kai O'Uhane Outrigger Canoe Center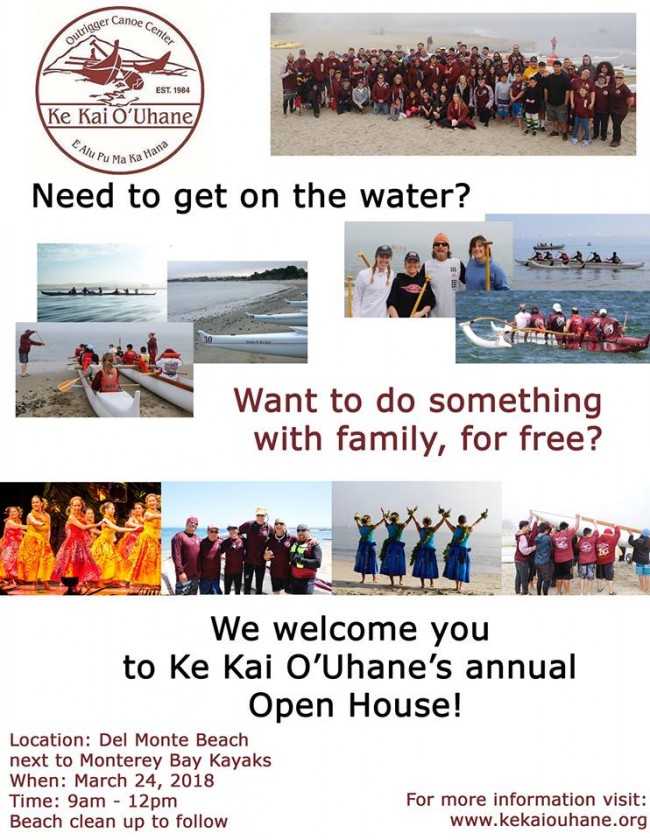 Have you ever wanted to try outrigger canoe paddling? Ke Kai O'Uhane Outrigger Canoe Center is hosting our Annual Open House Saturday, March 24th.This event invites those interested to learn more about the Island Culture and experience the traditions and sport of outrigger canoeing . Bring the whole family for a fun day by the Monterey Bay! Come celebrate the beginning of the paddling season with family, friends, great food, and more. Come share in the Aloha Spirit! This is a FREE Event!! Event starts at 9 am we will have New Paddler Registration, Apparel Sales, Kids Crafts and of course LOTS of paddling.
NCOCA WAIVERS AVAILABLE ONLINE: select Ke Kai Outrigger
https://www.smartwaiver.com/w/545a755dca9a9/web/
**Personnel Flotation Devices Available in every canoe and mandatory for those 12 & U**
Things to bring: Proper swim wear- this is a water sport and it is Monterey. Dry towel, Warm change of clothing for after and your Aloha Spirit!
Community Foundation for Monterey County
Big Sur Relief Foundation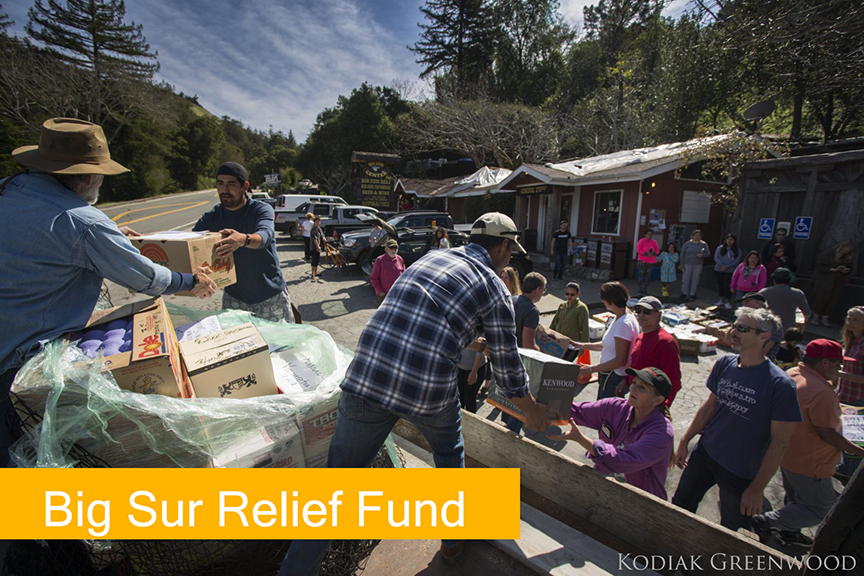 The devastating Soberanes Fire and this winter's heavy rains have caused tremendous hardship for Big Sur residents, employees and their families. HWY 1 is closed with massive mud slides, and Pfeiffer Canyon Bridge – the lifeline that connects the North and South – has been declared unsafe and has been condemned.
Iconic businesses like Esalen, Nepenthe, Deetjen's Big Sur Inn, Ventana, and Post Ranch are all temporarily closed. Over 1,000 Big Sur employees are out of work, and hundreds of families have been displaced. Thousands of people are in need of food, housing, and immediate assistance.
In light of these unique and challenging circumstances, several businesses have come together to raise funds to provide relief for local individuals and families. The Big Sur Relief Fund at the Community Foundation for Monterey County (CFMC) will provide relief and emergency assistance to those affected.
Donate Now
Your gift will support the affected residents and individuals working in Big Sur in Monterey County, California and is fully tax deductible. 100% of donations will be used for relief and assistance.
For more information on how to donate visit www.cfmco.org/BigSurRelief or
Mail a check:
Community Foundation for Monterey County
2354 Garden Road, Monterey, CA, 93940
"Attention: Big Sur Relief Fund"
Donate by Phone
Call 831.375.9712 Monday through Friday 8:30 AM to 5:00 PM
Contribute Appreciated Stock
Please contact Christine Dawson, Vice President of Philanthropic Services, for details at 831.375.9712 ext 126.
All donations to the Big Sur Relief Fund are tax deductible. Tax ID # 94-1615897
Email your community events at least two weeks in advance to: KCBACalendar@entravision.com