April 27th, 2018
20th Annual Children's Day
Alianza Charter School
Time: 9:15am-12:00pm Location: 115 Casserly Road, Watsonville Alianza Charter School celebrates is 20
th
annual Children's Day/Día del niño on April 27 from 9:15-12:00. Día del niño is a traditional holiday in México that was adopted by Alianza to honor our students. Teachers, families, local businesses, and community organizations honor k-8
th
grade students by donating their time and resources to plan exciting events for the whole community. Engaging activities include art, face painting, bike safety information, rock wall climbing, jump houses and much more. More than 700 students will participate in this great event. For more information prior to the event or at the event, contact Patricia Cortez at
patricia_cortez@pvusd.net
or at
831-728-6333
. We hope to see you here!
April 28th, 2018
International Day 2018
Naval Postgraduate School
Time: 12:00 PM to 4:00 PM Location: Naval Postgraduate School, One University Circle, Monterey, CA Phone: (650) 457-4638 Price: Free International Day is an event that celebrates cultural diversity. Representatives from all over the world will gather on Saturday, April 28, a day full of fun for the whole family! You may taste a world of flavors with International Cuisines or you may come to participate in games and activities made for everyone. We will have live music and performances you won't want to miss. This event is promoted by the Naval Postgraduate School (NPS) students and their families. Admission is free! Just present your Photo ID at the gate (along Sloat Ave). Food tickets may be purchased by $1 each or $20 for 22 tickets. Join us at the Academic Quad, NPS! Looking forward to meet all of you!
April 28th, 2018
Monterey Bay Parent Family Fun Expo
Monterey County Fairgrounds
Time: 10:00 AM to 3:00 PM Location: Monterey County Fair & Event Center, 2004 Fairgrounds Rd, Monterey, CA Phone: (831) 582-1373 Price: Free This special event features 50+ vendors with information for parents and grandparents on everything from summer camps to private schools. The event is free and open to the public. Arts & crafts for children, special giveaways, and much more. Call 831-582-1373 or check MontereyBayParent.com for additional information.
May 5th & 6th, 2018
34th California Indian Market & Peace Dance
Time: 10am - 6pm 10:00-Sat. & Sun. Opening Prayer – Welcoming Ancestors. SJB Intertribal Council. 11:00 Saturday Only - Ama Ka Tura Ohlone Dancers perform Deer Dance. Sat. Sun: 1:00, 3:00 & 5:00 -Xipe Totec Aztec Dancers honor Cinco de Mayo 2:00 Sunday: Peace Dance & AM Vet Flag Ceremony honoring military veterans. Location: San Juan Bautista School Soccer Lot, The Alameda & Highway 156 E Juried Fine Art Show by Native American, Western & Wildlife Artists: Apparel, basketry, Bead- work, book-signings, bronzes, carvings, CD, dolls, dream catchers, drums, feathers, fetishes, flutes, jewelry, kachinas, paintings, prints, pottery, sculptures, weavings, etc. Indian Tacos & Fry & Bread. Tropical drinks. Admission Donation $1. Under 12 free.
Community Foundation for Monterey County
Big Sur Relief Foundation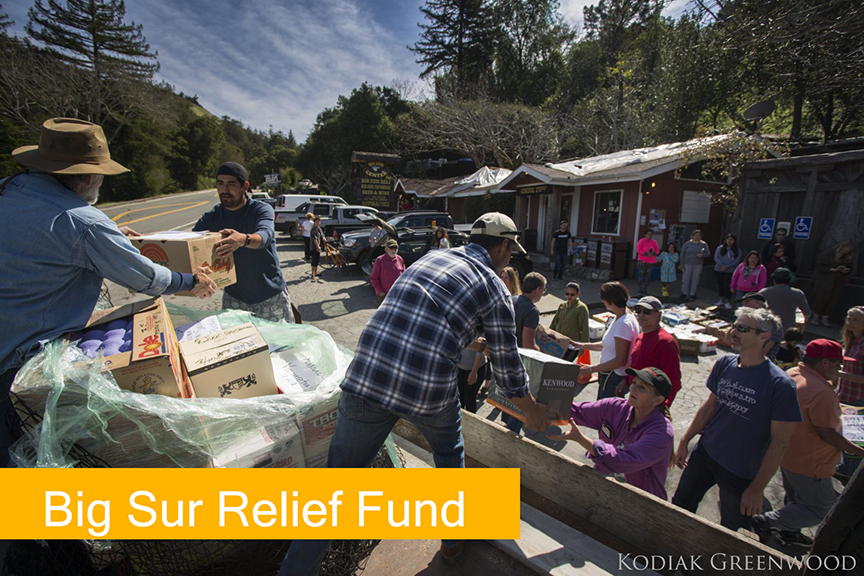 The devastating Soberanes Fire and this winter's heavy rains have caused tremendous hardship for Big Sur residents, employees and their families. HWY 1 is closed with massive mud slides, and Pfeiffer Canyon Bridge – the lifeline that connects the North and South – has been declared unsafe and has been condemned. Iconic businesses like Esalen, Nepenthe, Deetjen's Big Sur Inn, Ventana, and Post Ranch are all temporarily closed. Over 1,000 Big Sur employees are out of work, and hundreds of families have been displaced. Thousands of people are in need of food, housing, and immediate assistance. In light of these unique and challenging circumstances, several businesses have come together to raise funds to provide relief for local individuals and families. The Big Sur Relief Fund at the Community Foundation for Monterey County (CFMC) will provide relief and emergency assistance to those affected.
Donate Now
Your gift will support the affected residents and individuals working in Big Sur in Monterey County, California and is fully tax deductible. 
100% of donations will be used for relief and assistance.
For more information on how to donate visit 
www.cfmco.org/BigSurRelief
 or
Mail a check: Community Foundation for Monterey County 2354 Garden Road, Monterey, CA, 93940 "Attention: Big Sur Relief Fund"
Donate by Phone Call 831.375.9712 Monday through Friday 8:30 AM to 5:00 PM
Contribute Appreciated Stock Please contact Christine Dawson, Vice President of Philanthropic Services, for details at 831.375.9712 ext 126.
All donations to the Big Sur Relief Fund are tax deductible. Tax ID # 94-1615897
Email your community events at least two weeks in advance to: KCBACalendar@entravision.com