June 31- August 12 , 2017
Community Music School of Santa Cruz
Kids' Trad Music Camp
No camp on Saturday Aug. 5 & Sunday Aug. 6. Monday - Friday, 10:00 AM - 3:00 PM Garden Concert & Party on Saturday Aug. 12 from 10-2. The Boomeria 60 Verde Drive (off Empire Grade in Bonny Doon) Ages 7 - 13 Featuring fiddle, flute, pennywhistle, recorder, oboe, harp, guitar, accordion, small keyboards and cello. Additional activities include swimming and crafts every day. Register before March 18 for the Early Bird rate For more information visit
communitymusicschool.org
July 7th – August 5th, 2017
ALICE IN WONDERLAND
Paper Wing Theatre Company
When Alice stumbles down a rabbit hole, she meets the strangest creatures, hears their tales, and has adventures beyond her wildest dreams! Directly adapted by Mark Daniel Cunningham from the whimsical novel by Lewis Carroll. PERFECT FOR PATRONS OF ALL AGES! COSPLAY guests receive a discount at the door! Time: 8:00pm Location: 320 Hoffman Street, Monterey, CA 93940 Price: $23 adult / $20 senior/student/military For more information, call (831) 905-5684 or email
info@paperwing.com
.
July 15th – 29th, 2017
Carmel Bach Festival
Celebrating classical music for 80 years! The Carmel Bach Festival presents its 80th Annual Festival, July 15th – July 29th, 2017 in venues throughout Carmel, Monterey, and Pebble Beach, California. This year's festival features more than 40 events including main series concerts, recitals performed on period instruments, and a Music and Ideas series.
Highlights of the 2017 Festival include:
An opening night concert featuring Bach's Ascension Oratorio, Phillip Glass' Concerto Grosso(Mr. Glass turns 80 in 2017 also), Purcell's Birthday ode for Queen Mary and the last choruses from Handel's iconic Messiah.
Three pre-fest chamber concerts featuring the Diderot String Quartet, The Bach Festival's Circle of Strings Faculty Quartet, and organist Andrew Arthur at three locations around the Monterey Peninsula.
Sunday performances of Mozart's C Minor Mass, performed at 4:00 pm on July 16 and 23.
Associate conductor Andrew Megill conducting Tuesday night concerts with repertoire ranging from Bach (BWV 21) to Barber (Adagio for Strings) to Bernstein (Chichester Psalms).
World renowned musicians and vocal soloists, including Mhairi Lawson, Meg Bragle, Thomas Cooley, and the return of bass-baritone Dashon Burton.
Wednesday evening concerts, Monteverdi's Vespers, at the magnificent Carmel Mission Basilica, featuring the Festival Orchestra and Chorale.
Friday night orchestral concerts featuring Beethoven's epic Ninth Symphony. The final movement, centered on "Ode to Joy," is Beethoven's expression of universal brotherhood and ecstatic joy.
Different programs on Thursdays during the Festival including Folk and "Barolk" highlighting the individual talents of the Bach Festival orchestra and chorale produced by violinist Edwin Huizinga and guitarist William Coulter, and "Going to California: An Intimate Journey from Beethoven to Broadway and Beyond, on July 27, with the Bach Festival vocal soloists performing repertoire by Beethoven, Schubert, Cole Porter, Lerner and Lowe and even Led Zeppelin!
A wide array of chamber concerts including foyer concerts at the Sunset Center, and an array of performances from a range of repertoire at Carmel Presbyterian Church on Ocean Avenue, and All Saints Church on Dolores Street.
For the fourth year, due to popular demand, a special family concert is scheduled on Saturday, July 22 at 11 AM at Sunset Center Theater featuring Leonard and Rasmus: Expedition to the Moon!
Discounted ticket prices for students, active and retired military, and families
An opening gala at the Intercontinental Hotel in Cannery Row on Friday, July 14 featuring Festival violinist Edwin Huizinga and guitarist William Coulter.
Tickets go on sale to the general public on March 1, 2017. Concert tickets range from $10 – $128. Location: Various venues throughout Carmel, Monterey and Pebble Beach. For more information, please call (831) 624-1521 or visit
https://www.bachfestival.org/
.
July 20th - 23rd, 2017
California Rodeo Salinas
Salinas Sports Complex
The California Rodeo Salinas is one of the top 20 Professional Rodeos in the United States and the largest in California. Known in the rodeo world for our big arena and beautiful buckles, we are most proud of being a not-for-profit organization that gives back between $200,000 and $300,000 each year to local non-profits. Click here to view all the events at the rodeo:
http://www.carodeo.com/events
Location: 1034 N Main St, Salinas, CA 93906
July 21st, 2017
Firestone Walker Brewery Rare Beer Extravaganza
Cannery Row Brewing Company
When: 5:00 PM-12:00 AM Firestone Walker is taking over the Cannery Row Brewing Company! Join them this Friday for some incredible brews like Parabola, Luponic Distortion, West Side Beavo, Stickee Monkee, Bravo and Nitro Merlin. For more information, please visit
http://www.canneryrowbrewingcompany.com/events.htm
July 21st – September 2nd, 2017
Evenings By The Bay
Monterey Bay Aquarium
Join us for Evenings by the Bay! Extended summer hours until 8 p.m. on select weekend dates allow you to see the Aquarium in a whole new light. Stroll our galleries with fewer people as you enjoy a glass of wine and listen to live musical performances. Plus, enjoy delicious, sustainable food featuring the freshest ingredients sourced from Monterey Bay and the Central Valley.
Event included with Aquarium admission. Locals receive special admission prices after 6 p.m.
Food and beverage selections will be available for purchase.
Please note that not all exhibits are available for viewing during these extended hours.
Location: 886 Cannery Row, Monterey, CA 93940 Upcoming Dates: July 21st, July 22
nd
,  July 28
th
,  
July 29
th
,  
Aug. 5
th
,  
Aug. 12
th
,  
Aug. 19
th
,  
Aug. 26
th
,  
Sept. 2nd
For more information, please call
(831) 648-4800 or visit
https://www.montereybayaquarium.org/visit/special-events/evenings-by-the-bay
July 22nd – 30th, 2017
Shark Science Week
Seymour Marine Discovery Center
For a full week, the Seymour Center will celebrate Shark Science Week by revealing fascinating facts about these cartilaginous fishes. Come explore amazing shark adaptations including their extraordinary senses, the unique ways in which they reproduce, and so much more. Shark touching pool open every day! Mailing Address: Seymour Marine Discovery Center 100 McAllister Way Santa Cruz, CA 95060 Location: End of Delaware Avenue, Santa Cruz, California For more information, please call (831) 459-3800 or visit
https://seymourcenter.ucsc.edu/
July 23rd and July 30th
Yoga + Beer Summer Series
Portola Hotel & Spa
Meditate, move & flow with a 90 minute yoga class in our Cottonwood Plaza followed by craft beer at Peter B's Brewpub. Classes will be led by local certified yoga instructor, Kate Balog, open to all levels of students ages 21+. Class Schedule: July 23 │ July 30 - each class begins at 11am. Cost: $20 Location: The Cottonwood Plaza at 2 Portola Plaza, Monterey, CA 93940 For questions or additional information, please call (831) 649-7874.
July 23rd, 2017
45th Annual Wharf to Wharf Race
Wharf to Wharf Race Inc.
Each year, on the fourth Sunday in July, 16,000 runners from across America and around the globe return to Santa Cruz, California for the annual 6 mile race to Capitola-by-the-Sea. The event is the biggest summer event of its kind on the West Coast and a boon to local business, annually infusing more than 8 million dollars into the Santa Cruz County economy.  Wharf to Wharf Race, Inc., has contributed more than 5 million dollars to Santa Cruz County back to Santa Cruz County in the 45 year history.
DATE OF RACE: 
Sunday, July 23
rd
, 2017 (Always on the 4
th
 Sunday in July)
DISTANCE: 
6 mile road race (not 10k!)
START TIME: 
8:30am (sharp!)
LOCATION: 
The Wharf to Wharf Race starts at the Santa Cruz Wharf (
Beach St. & Cliff St.)
 near the Santa Cruz Beach Boardwalk and finishes at the Capitola Wharf (
Wharf Rd. & Cliff Dr.)
 near Capitola Village.
REGISTRATION
Registration for the 45
th
 Annual Wharf to Wharf Race will be $45 per person and will be limited to 16,000 people. Registration details are as follows:
Loyalty Registration
:  Opens on Tuesday, March 21
st
 (must have been registered for 4 of the past 7 years)
Locals Registration
:  Opens on Tuesday, March 28th (must have a Santa Cruz County billing, credit card zip code)
General Registration
:  Opens on Tuesday, April 4
th
 (everyone is eligible)
Random Selection Process
:  Opens on April 11
th
 (everyone is eligible) For more information, please visit
http://wharftowharf.com/wharf-wharf-race-2017/
July 26th – 30th, 2017
Feast of Lanterns
Pacific Grove Feast of Lanterns, Inc.
For over one hundred years the citizens of Pacific Grove have celebrated its history and culture with a summer festival called the Feast of Lanterns. This Festival has evolved over its 100-plus year history from the ceremonial end to the Chautauqua Assembly with a lantern parade to the beach and fireworks over the bay to a multi-cultural community event filled with entertainment. Where: Pacific Grove For more information, please call (831) 800-1905 or visit
http://www.feast-of-lanterns.org/
August 5th – 6th, 2017
California Turkish Arts & Culture Festival
Turkish American Association of California
FREE ADMISSION! Live Music and Entertainment: Folk Dancing, Belly Dancing & Art Exhibits Featuring: Group Hadi Hadi andGroup Karmasik Food and drinks: Doner Kebap, Adana Kebap, Borek, Baklava, Turkish Coffee & more! Many activities for children: puppet making, face painting, coloring, folk dancing & games! When: Saturday and Sunday, August 5th-6th, 2017 from 11am - 7pm Location: Custom House Plaza, Monterey CA. For more information, please visit
http://www.turkfestca.org/
August 6th, 2017
Santa Cruz Dinner Club
The Santa Cruz Dinner Club is open for new membership. Do you enjoy fine food and wines paired with interesting conversations? Our club might be a great fit for you, leading to establishing wonderful local friendships. Dinners are held monthly at various members' homes, typically three or four at separate locations, on the same evening. The attendance is 6 – 8 people per home, rotated monthly. Our next 2 dinners are July 9th and Aug 6th. For more information contact 
info@santacruzdinnerclub.com
Contact: Harry Domash
hdomash@winninginvesting.com
831-685-1932
August 17th – 20th, 2017
Rolex Monterey Motorsports Reunion
Mazda Raceway Laguna Seca
What
:  Described as a museum springing to life, the Rolex Monterey Motorsports Reunion is the largest event held during the famed Monterey Classic Car Week, and is the only event where cars are doing what they were originally intended to do … race. Approximately 550 race cars are accepted from more than 1,000 entry applications to compete in the world's premier motoring event. Each entry is scrutinized and accepted based on the car's authenticity, race provenance and period correctness. The event relives motorsport history at the iconic circuit, which has been the scene of America's golden years of sports car racing since its inception in 1957. In addition to the entertaining on-track action, there are always engaging autograph opportunities with legendary drivers, Q&A sessions, and fine wine and cheese tastings among the myriad activities.
Where:
Mazda Raceway Laguna Seca
Honoring
:
60th anniversary of Formula Junior
60th anniversary of Mazda Raceway Laguna Seca
70th anniversary of Ferrari
For more information, please call 831-242-8200 or visit
http://www.mazdaraceway.com/rolex-monterey-motorsports-reunion
November 19th, 2017
Bubbles and Bags
Girls Inc. of the Central Coast
Girls Inc. of the Central Coast (GICC) is pleased to announce our fall fundraiser:
Bubbles and Bag, Sunday, November 19, 2017, from 1pm-4pm at the Inn at Spanish Bay in Pebble Beach.  
Join us for the event and shop for a great cause! Sip champagne, socialize and purchase some fabulous handbags to add to your collection or to give as holiday gifts.
To purchase tickets
First Peek Preview at 1:00 PM-2:00 PM (For "Buy it Now" Purchase only) Tickets $100 Silent Auction 2:00 PM-4:00 PM Tickets $ 35.000
https://www.eventbrite.com/e/girls-inc-bubbles-bags-event-tickets-35385220146
To Donate Bags
Last year more than 500 handbags were donated to the event.  Our goal for 2017 is to top that number, but we need your help!  We are collecting handbags 
NOW
 and will do so until 
Friday, October 6, 2017
.  We hope that you and your friends have good quality handbags that you would like to donate to the cause.  We are looking for:
"Like New" handbags that no longer suit your taste
New bags you have never used
High-end/Designer bags
Everyday and evening bags
Wallets in very good condition
Bag donation locations: Fenton & Keller, 2801 Monterey-Salinas Highway, Monterey, CA 93940 
(831) 373-1241
, or you may contact Girls Inc. 
(831) 772-0882
girlsincbubblesandbags@gmail.com
 to arrange for pick-up.  The Salinas donation location is the Girls Inc. of the Central Coast office at 318 Cayuga St, Suite 101A, Salinas, CA 93901. For more information, call 
(831) 772-0882
. For More information, contact Patty at 
pattygirlsinccc@gmail.com
 or 
(831) 772-0882
.
About Girls Inc. of the Central Coast
Girls Inc. of the Central Coast is an affiliate of Girls Inc., a national organization and the country's leading research and evaluation organization on issues pertaining to girls and young women. We are the first affiliate to offer programs completely facilitated by teens. We work with girls ages 8 to 18 with proven "girl-focused" programs at our outreach sites throughout Monterey, San Benito, and Santa Cruz Counties. Each year, we serve over 1,400 girls in 33 schools in 9 cities. Our mission is to inspire all girls to be strong, smart, and bold and to respect themselves and the world around them.   If you are interested in joining or would like more information, please contact the Girls Inc. of the Central Coast office at 
(831) 772-0882
.  For more information visit our website
Contact: 
Patty Fernandez Executive Director Tel: 
831-772-0882
Fax: 
831-772-0773
Email:
pattygirlsinccc@gmail.com
Community Foundation for Monterey County
Big Sur Relief Foundation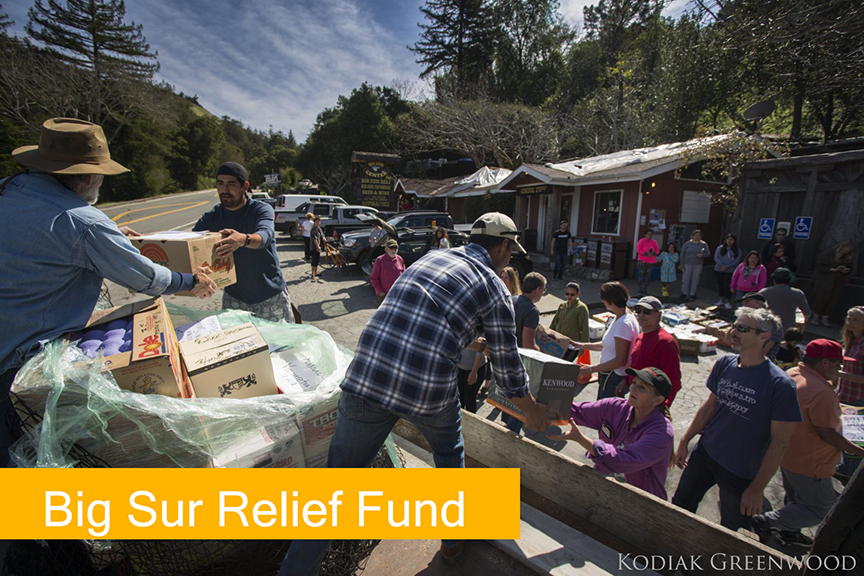 The devastating Soberanes Fire and this winter's heavy rains have caused tremendous hardship for Big Sur residents, employees and their families. HWY 1 is closed with massive mud slides, and Pfeiffer Canyon Bridge – the lifeline that connects the North and South – has been declared unsafe and has been condemned. Iconic businesses like Esalen, Nepenthe, Deetjen's Big Sur Inn, Ventana, and Post Ranch are all temporarily closed. Over 1,000 Big Sur employees are out of work, and hundreds of families have been displaced. Thousands of people are in need of food, housing, and immediate assistance. In light of these unique and challenging circumstances, several businesses have come together to raise funds to provide relief for local individuals and families. The Big Sur Relief Fund at the Community Foundation for Monterey County (CFMC) will provide relief and emergency assistance to those affected.
Donate Now
Your gift will support the affected residents and individuals working in Big Sur in Monterey County, California and is fully tax deductible. 
100% of donations will be used for relief and assistance.
For more information on how to donate visit 
www.cfmco.org/BigSurRelief
 or
Mail a check: Community Foundation for Monterey County 2354 Garden Road, Monterey, CA, 93940 "Attention: Big Sur Relief Fund"
Donate by Phone Call 831.375.9712 Monday through Friday 8:30 AM to 5:00 PM
Contribute Appreciated Stock Please contact Christine Dawson, Vice President of Philanthropic Services, for details at 831.375.9712 ext 126.
All donations to the Big Sur Relief Fund are tax deductible. Tax ID # 94-1615897
Email your community events to: KCBACalendar@entravision.com