Gilroy park reopens after deadly Garlic Festival shooting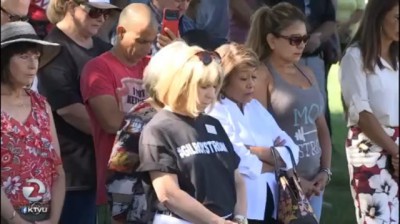 KCBA News
September 4, 2019 2:48 pm
Posted Sep 03 2019 12:59PM PDT
Video Posted Sep 03 2019 08:34PM PDT
Updated Sep 03 2019 08:59PM PDT
GILROY, Calif. (KTVU) - An emotional ceremony on Tuesday, marked the reopening of a park, where a gunman opened fire during the Gilroy Garlic Festival earlier this summer.
The reopening of Christmas Hill Park comes more than a month after the July 28 tragedy that killed three people and injured 17 others.
City officials joined residents of Gilroy, standing underneath trees and shadowed by heavy emotions for a brief, mid-morning ceremony, which included a moment of silence and speeches.
The mayor said it was an important step for the community to take. "By doing this, now we're able to open up the park, reflect on what happened here. And start the healing process for Gilroy," Mayor Roland Velasco said.
Some of those who were there during the shooting also attended the park's reopening.
"Relieved that it's back open, happy that it's back open," witness Lisa Balgof said, "but still, healing from the event."
Balgof is one of many who escaped injury, but still struggles with unsettled nerves and feelings.
"Up to today I was doing okay, but today brought it back. So we'll see," Balgof said as she struggled to hold back her tears.
The city has put up a temporary memorial, which features three rocks representing the three people who were killed and 17 wooden posts have also been erected to pay tribute to those who were wounded, who ranged in age from 12 to 69 years old. The entire arrangement sits under a tall palm tree, symbolizing life and growth.
The city plans to establish a more permanent memorial in the coming year.
Jennifer Russell lives near the park. She went running for an hour for the first time since the shooting as she trains for a half-marathon. "You come in here, and they have this going up with the memorial and you're reminded that three people were killed and many more were shot," Russell said.
The youngest victim of the shooting was a 6-year-old boy from San Jose, Stephen Romero, who died after a bullet struck him in the back. The child's mother and grandmother were also injured in the shooting.
"I can't help but relive all the events as I'm coming down this pathway. I'm sad that our community's gone through this and I'm sad for the victims of this event," said Gilroy Police Chief Scot Smithee.
Last week, police identified the latest victim, who suffered a graze wound to the head, during the shooting.
The gunman, identified as 19-year-old Santino William Legan, shot himself after exchanging gunfire with Gilroy police officers.