Building under construction along Oakland-Emeryville border catches fire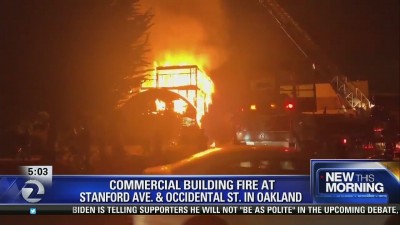 KCBA News
July 26, 2019 11:39 am
Posted Jul 26 2019 05:26AM PDT
Video Posted Jul 26 2019 05:19AM PDT
Updated Jul 26 2019 10:31AM PDT
Firefighters in Alameda County are investigating a fire at a building under construction near the Oakland-Emeryville border.
The two-alarm fire started at about 10 p.m. Thursday at 919 Stanford Avenue, near Lowell Street.
The building was slated to become a multi-unit housing complex. Battalion Chief Demond Simmons of Oakland Fire Department said due to the smoke and intense flames, crews went into "fire attack," and started applying water, initially from the interior of the building.
But firefighters were forced out, due to the structural instability of the building.
As of early Friday morning, investigators did not know what could have sparked the fire, however, the building's owner, Tony Wilson, believes the fire was set intentionally.
Wilson said his construction crew at the site last night, reported that a stranger came up to them and asked for a cigarette.
Simmons would not confirm the allegations but said they are looking at surveillance video from a nearby building.
The Bureau of Alcohol, Tobacco, Firearms and Explosives was called to the scene because of similar fires in the past at housing construction sites.
Simmons said the fire is still under investigation and the cause is unknown.
No injuries were reported from this incident.