Final preparations underway ahead of high-risk California wildfire season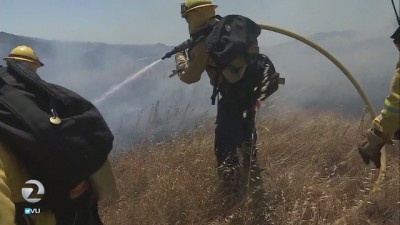 KCBA News
May 31, 2019 12:06 pm
Posted May 30 2019 06:10PM PDT
Video Posted May 30 2019 06:05PM PDT
MARIN COUNTY, Calif. (KTVU) - With hot, dry weather soon to be upon us, fire officials want to emphasize how an ounce of prevention can prevent towns burning to the ground.
We're getting to the point where the weather will dictate the fate of wildlands, homes, even towns.
Just north of San Rafael, Marin County fire fighters, taking advantage of a calm day, on an often used hillside, performed controlled burn for seasonal hire, firefighter training.
Despite recent rains, fire science forecasters are expecting another bad year.
"They're telling us that we're gonna have another high risk season. It's gonna be a little bit delayed.
Some of our worse fire seasons in history in California have been after, actually, extremely wet Mays, said Marin County Fire Battalion Chief Graham Groneman.
Though this is a training today, fire officials say you can expect to see a lot more controlled burns for the specific purpose of abating danger in problem areas before the rage into wildfires.