Heavy wind, high surf advisories for Bay Area coastline: US Coast Guard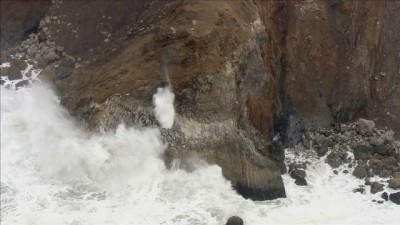 KCBA News
November 28, 2018 4:33 pm
POSTED: NOV 28 2018 05:49AM PST
VIDEO POSTED: NOV 28 2018 06:40AM PST
UPDATED: NOV 28 2018 08:02AM PST
PACIFICA, Calif. (KTVU) - The Coast Guard issued a warning about the heavy winds and high surf forecast for Bay Area coastline  through Friday.
Waves from 12-25 feet are expected in the area, including Pacifica, as well as dangerous rip currents and potential beach erosion.
"It's important that the public take these advisories seriously and not place themselves or their families and friends in dangerous situations," Joseph Ford, a Coast Guard sector San Francisco command center watch officer, said in a statement. "We strongly urge people to stay away from breaking surf and to never turn your back on the ocean, as waves can be unpredictable."
Boaters should always have a marine VHF radio and life jackets for everyone aboard, the Coast Guard recommended. Life jackets should be worn at all times when underway.
For more information about the high surf advisory, visit weather.gov/mtr.