Wine country leaders address price-gouging after wildfires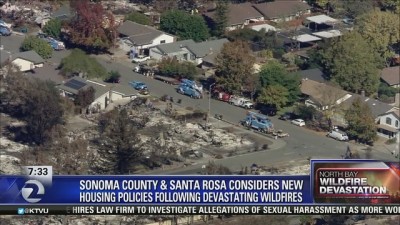 KCBA News
October 27, 2017 4:07 pm
POSTED: OCT 24 2017 07:57AM PDT
VIDEO POSTED: OCT 24 2017 07:56AM PDT
SANTA ROSA, Calif. (Leigh Martinez/KTVU) - Both Sonoma County and the city of Santa Rosa want to make it easier for displaced fire victims to find places to live. Thousands of homes were destroyed in an area that already had a short supply of housing options.
More than 6,000 homes were lost in these wildfires. Now, government leaders want to try to keep those who lost everything from leaving the area.
The wildfires wiped out whole neighborhoods and it's estimated that the rebuilding process could take several years.
There are already state emergency laws to prevent price gouging on rent, but local leaders want to go further with relief for long term rentals, Sonoma County's board of supervisors will also decide on a proposed ordinance that targets price-gouging, barring landlords from increasing rent unless they can justify an increase from before the wildfire disaster.
Similarly, the city's proposed rent ordinance will stop landlords from raising rents more than 10 percent.
Both county and city leaders will consider relaxing several housing rules such as allowing people to live in RVs on properties while their houses are being built and allowing others to rent out their guest or pool houses.
The emergency housing ordinances could be in place through 2019.
The board of supervisors meeting begins Tuesday at 8:30 a.m. and the Santa Rosa City Council meeting starts at 4 p.m.