Santa Rosa police save Halloween for kids who were fire victims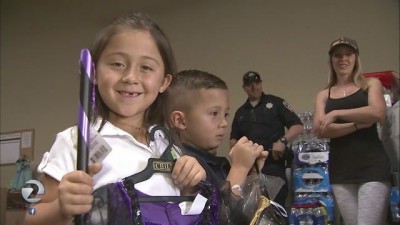 KCBA News
October 27, 2017 4:30 pm
POSTED: OCT 25 2017 10:58PM PDT
VIDEO POSTED: OCT 25 2017 10:52PM PDT
UPDATED: OCT 25 2017 11:05PM PDT
SANTA ROSA, Calif. (KTVU) - Halloween is coming, and for the children caught up in the North Bay fire disaster it's certainly more trick than treat this year.
The festivities are easily overshadowed by everything fire victims are dealing with right now.
That's why the Santa Rosa Police Dept. made saving Halloween a priority call.
"We want children to know, this is a small time in your life when something really bad has happened, but anything we can do to  remind you what life was like before the fires, we want to to do," said Sgt. Summer Black, surveying a room full of donated costumes, sorted by type and size.
Friday evening, fire survivors are invited to a Santa Rosa church where they and their children can select free costumes.
But Wednesday, the Pena family of Larkfield got an early peek.
6-year-old Anaya chose a witch costume, and brother Freddie, 4, picked a knight outfit.
Their original costumes, purchased online, were a matador and mariachi, but they burned up.
"We had really nice costumes, but now they get to be something else, so they're happy," smiled mom Janel Pena.
The family lost everything in the Tubbs fire, but not their enthusiasm for Halloween.
"Every year we go big, have fun, hand out candy," said father Freddie Pena, "and be part of the festivities, like everybody else does."
This year, several longstanding neighborhoods aren't like everybody else's.
Sidewalks in Fountain Grove, Larkfield, and Coffey Park were always full of monsters and princesses, parents in tow.
"Everything would be lit up, decorations, kids running here and there, " mused 21-year-old Brianna Scott, surveying the charred scene in Coffey Park, where she's grown up.
We just had lots of neighbors, we had fun, and people got their garage all set-up for trick or treat, " she reminisced.
While there is no fixing the neighborhoods in time, the police department has the costume dilemma conquered.
"We have Star Wars, you name it, it's probably here," said Ofc. Nick Vercelli, sorting through a box at the Police Officers Association offices.
The effort started with Vercelli's fiancee Naomi, who put out word on Facebook, and soon costumes filled the couple's porch and living room.
"Growing up for me, this was my favorite holiday, and I know it's probably a close second to Christmas for a lot of kids," smiled Ofc. Vercelli.
As the effort grew and shifted to police headquarters, a constant flow of costumes began arriving, thousands in only one week.
"Party City sent us 500, maybe more. 35 boxes showed up at once, all sizes, " enthused Black. "I guarantee, anything you want, we have it."
Also collected: treat buckets and goodie bags, all free, for families affected by the fires.
Sgt. Black expects firefighter and police officer costumes to be more popular than ever, after what kids have experienced, leaving and then losing their homes.
"It will never erase those memories of it, but for a little moment in time, bring them back to a different reality than the one they're living in right now," observed Sgt. Black.
The Pena family was grateful to have replacement costumes in hand.
The children will wear them in their school parade, and on Halloween, trick-or-treating in Healdsburg, where they are staying.
"We just have to start new traditions until we can get back into Larkfield," said Janel Pena, "but the support is amazing. People we haven't talked to in years, everybody's helping, it's so heartwarming."
Freddie Pena is one of nine Santa Rosa Police Officers who lost their homes in the fires.
"Getting the costumes, it's normalcy, getting back to what we would usually do," said Freddie, "and not let the fire impact us, change our way of life."
The costume distribution will be held at Santa Rosa Christian Church at 1315 Pacific Avenue on Friday October 27 from 3-7 pm.
Free costumes are available from infant sizes to teenager, and even some adult costumes for parents too.