Santa Rosa City Council takes action to help fire victims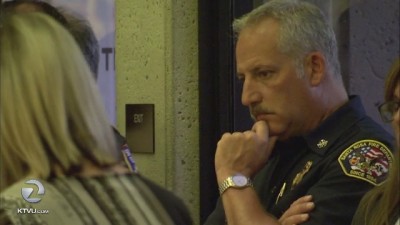 KCBA News
October 27, 2017 4:14 pm
POSTED: OCT 24 2017 11:10PM PDT
VIDEO POSTED: OCT 24 2017 10:31PM PDT
UPDATED: OCT 24 2017 11:15PM PDT
SANTA ROSA, Calif. (KTVU) - Santa Rosa's City Council met Tuesday evening, for the first time since the firestorm, and approved two measures aimed at helping fire victims.
"Now comes the hard part", warned Mayor Chris Coursey, addressing the audience, "and it's going to be exhausting, it's going to be frustrating, it's going to be exhilarating."
Coursey said he understood victims want their homes rebuilt "yesterday," but what fire did in a few hours, may take a few years to replace. He asked for patience as everyone embarks on an unprecedented process.
"It won't be fast enough, it won't be easy enough, it won't be simple enough," he noted.
Almost 3,000 homes were lost inside city limits, and almost 4,000 are gone in unincorporated areas.
Tuesday, both the City Council and Sonoma County Board of Supervisors pushed ahead with urgent legislation.
"We continue to hear that Santa Rosa is gone as we know it and won't be able to rebuild," said City Council member Chris Rogers indignantly, "but anyone who says that doesn't know this community."
Survivors are sifting through many decisions: insurance, toxic cleanup, debris removal, demolition, design, and construction.
One action by the council creates new zoning for five burn areas.
Designated as "resilient city" districts, residents of those areas will be able to get permits more quickly and with fewer steps, and at reduced or no cost.
"There's a lot of movers and shakers in Santa Rosa who lost their homes, so I think there's going to be some pressure," homeowner Hans Dippel told KTVU outside the council chambers.
Dippel has already banded with dozens of neighbors in his Fountain Grove neighborhood. He hatched his plan the same morning his house burned down.
"I knew it was gone at 6 am, and at 8:30 I was on the phone with the builder," recounted Dippel, "and we decided to do economy of scale, with 40 or 50 homes, we'll build all together, same architecture, same floor plan as before. So we'll see what the city has to say about that."
Builders and bankers expressed concern that city staff are overwhelmed.
"They need help, and we know you're making every effort to hire additional staff, but with these ordinances, it must be highest priority," advised Richard Dowd of Alta Pacific Bank, during the public comment period.
The city also approved a rent gouging ordinance- barring landlords from raising rents more than ten percent above what they were before the fire.
Advocates are particularly concerned about tenants burned out of apartments or mobile homes, who may not have the resources of those in fountain grove.
"These are people who need to be housed immediately," commented advocate Marlina Martarano," and housed someplace that's safe, where they can feel secure. It's beyond words."
The council asked fire victims to trust them.
"We'll be here for you, if nothing else, just to listen," declared member Tom Schwedholm, "and we're going to make some mistakes, but let me also assure you, we're not going anywhere."
The mayor implored families not to throw up their hands and move away.
"You're an important part of the fabric of our community and you make our neighborhoods strong. We want you to stay here, and we'll help you to stay here," exclaimed Coursey.
Both the city and county are posting new developments on a shared website, SonomaCountyRecovers.org.