Post firestorm housing possibilities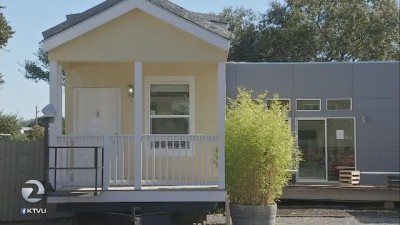 KCBA News
October 27, 2017 4:44 pm
POSTED: OCT 26 2017 07:15PM PDT
VIDEO POSTED: OCT 26 2017 06:50PM PDT
SANTA ROSA, Calif. (KTVU) - With five percent of Santa Rosa's housing market lost, finding temporary housing for displaced residents is a major effort in the worst rental market in California history. One alternative shows promise mixed in with an incredible act of generosity.
Remodeling contractor Charlie McEvoy and his wife thought their home would be lost in the Santa Rosa fires, so they fled to their parents' house a few miles away. There they began a project of recovery. A nearly finished, trailer mounted, 200 square foot tiny home was to be the McEvoy's temporary home. But, the fire spared their home which sits very closed to Coffey Park.
So, the McEvoys, along with family, friends and subcontractors, decided this home should go to someone who lost theirs. And it should go for free.
"We're working with a woman who's been involved in our Sonoma County Foster System for decades and she is working with all her resources in that community to try to put a family from the foster care system of somebody who works in the foster care system who didn't have insurance and is basically left with nothing," said Charlie McEvoy owner of McEvoy Construction. "And so, when we knew that our house was gonna be OK, we knew that we had to provide that comfort at elate for somebody else," said Andrea McEvoy.
The group has decided if one is good, two free homes would be better, because they are waiting for contracts and permits for the permanent remodeling and home building they normally do. "There's still time to build a second one before all of the planning is done in Sonoma County and Santa Rosa," said Mr. McEvoy.
In Petaluma, Little House On the Trailer specializes in lower cost, affordable homes that could be trailered to the lots of those who are rebuilding. They have access to three major factory homebuilders that could, if needed, turn out as many as a ten homes a month for him, usually well under $100,000 each.
"I'm getting a lot of calls in the last few weeks as you might imagine. The first call is: can we have something temporary while we're rebuilding our house? And I say, 'of course, but it's gonna cost,'" said Steven Marshall, founder of Little House On the Trailer.
Sonoma County has a law that allows such trailered homes to be un-trailered and turned into rental units. "And that thing that you're thinking of as being temporary might be converted into an accessory dwelling unit after you've rebuilt your main home and you will recapture all that cost," said Mr. Marshall.
With FEMA already overloaded in Florida, Texas, Puerto Rico and the Virgin Islands, FEMA has told Sonoma and Napa Counties to think outside of the box when looking for alternative housing. Folks such as Steven Marshall and Charlie McEvoy already were.