Metallica, Dave Matthews headline concert for wine country fire relief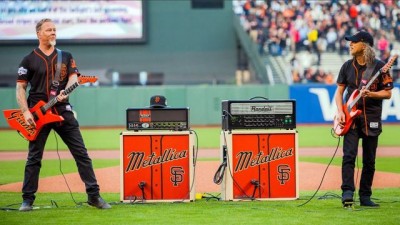 KCBA News
October 27, 2017 4:19 pm
POSTED: OCT 25 2017 10:53AM PDT
UPDATED: OCT 25 2017 12:28PM PDT
SAN FRANCISCO (KTVU) – Some big name entertainers will take part in a benefit concert for North Bay fire victims.
Bay Area heavy metal band Metallica, Dave Matthews and G-Eazy will perform at a fundraiser at AT&T Park on Thursday, November 9.
Presale tickets will be available Thursday, October 26 at 10 a.m. with tickets on sale for the general public on Friday, October 27 at 10 a.m.
Tickets range from $50 to $200.
Metallica posted the following statement:
"Earlier this month Northern California, the community that we have called home for over 34 years, suffered devastating wild fires that have destroyed homes and displaced over 100,000 of our neighbors in Napa, Sonoma, Mendocino, Lake and other counties in the North Bay. We're extremely saddened by the suffering that so many are feeling in the Bay Area, but are also inspired by the enormous outpouring of love and support from all around the country and want to jump in and help in the way we know how to – through music! With that said, we are proud to be a part of Band Together, a benefit concert at AT&T Park in San Francisco on Thursday, November 9, 2017 to assist the families impacted by the fires and show our immense appreciation to the thousands of first responders who have been working tirelessly since the fires began. Joining us will be Dave Matthews Band, G-Eazy and more friends to be announced soon."
According to Metallica.com, all funds from ticket sales will beneift Tipping Point Community, which has set up an Emergency Relief Fund for low-income, vulnerable communities impacted by the crisis. This includes "vineyard workers, immigrants, displaced young people, and students."
Donations can also be made here https://allwithinmyhands.org/
Learn more about Tipping Point here. 
Some of the best seats will be reserved for fire survivors, first responders, and volunteers.