Many Santa Rosa students return to school three weeks after wildfires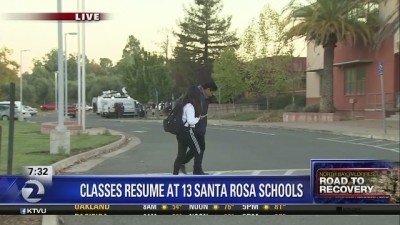 KCBA News
October 27, 2017 4:48 pm
POSTED: OCT 27 2017 07:57AM PDT
VIDEO POSTED: OCT 27 2017 07:53AM PDT
SANTA ROSA, Calif. (Alex Savidge) - Thousands of students in Santa Rosa will return to school on Friday morning for the first time since the destructive North Bay wildfires forced the cancellation of classes nearly three weeks ago.
And going to school should help them feel like things are back to normal. The community of Piner High School, one of 13 Santa Rosa schools opening on Friday,  was one of the schools hardest hit during the disaster. About 80 students lost their homes, as did four staff members.
Thirteen schools that will reopen on Friday — nine elementary schools, one middle school, two high schools and a charter school.
On Monday, 11 other Santa Rosa schools will resume class.