Crews begin cleanup of debris, toxic materials after North Bay fires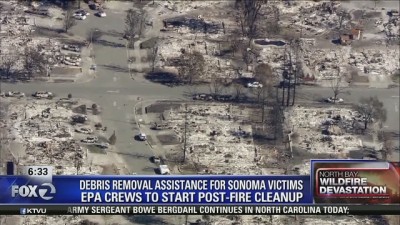 KCBA News
October 27, 2017 4:18 pm
POSTED: OCT 25 2017 06:45AM PDT
VIDEO POSTED: OCT 25 2017 06:42AM PDT
SANTA ROSA, Calif. (Christien Kafton) - The cleanup is now getting underway in the North Bay following October's deadly and destructive firestorm.
Now, crews in Santa Rosa and other places in wine country have begun the task of surveying and removing toxic materials left after the wildfires.
On Saturday, the governor signed an executive order allowing Environmental Protection Agency officials to begin the process of removing toxic waste that poses an immediate threat to the public following the wildfires.
EPA, county and state officials and contractors are currently surveying burned out homes for items including batteries, leftover flammable material, asbestos, paint and other potentially dangerous materials.
It's a critical first step toward cleaning up and eventually rebuilding the 6.700 homes and structures that burned in the wildfires that broke out on Oct. 1.
The Press Democrat is reporting that initial survey has begun: Cleanup is expected to take until at least Dec. 15.
Meanwhile, at 9 a.m. on Wednesday,  Sonoma County officials will be opening a debris removal right-of-entry permit center at the Department of Health Services. Staff will be on hand to assist residents with filling out paperwork for the voluntary debris removal program. The center will be open daily from 9 a.m. to 6 p.m. until Sunday.