After fire, Cardinal Newman High football team resumes season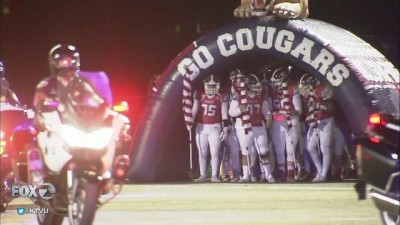 KCBA News
October 27, 2017 4:10 pm
POSTED: OCT 24 2017 08:06AM PDT
VIDEO POSTED: OCT 23 2017 10:25PM PDT
UPDATED: OCT 24 2017 08:08AM PDT
SANTA ROSA, Calif. (Debora Villalon) - Two weeks after fire ravaged their campus and destroyed dozens of students' homes, Cardinal Newman High School in Santa Rosa resumed its football season Monday night.
The win went to rival Rancho Cotate High School, 41-28, but coaches, players, and families agree: just stepping onto the field was a victory.
"I think it's huge for us, as a team, just to get back together," varsity player Matt Nielson told KTVU, before the no-league match-up in Rohnert Park.
Half of Cardinal Newman's campus was destroyed by the Tubbs fire, and the site had barely cooled before the football squads started meeting and practicing again.
"There were a lot of hugs, a lot of emotion, seeing people, seeing if they're okay and stuff," described Nielson.
Nine players among the junior varsity and varsity football teams lost their homes.
"At first football was on the back burner, but now it's everything. It's basically the one thing we all have left," admitted varsity wide receiver Kyle Carinalli whose family home was destroyed.
Carinalli's regular jersey burned up in the fire, so he was wearing another number for the game, but simply happy to play.
"It has not been fun having the past two weeks off, without having a game," declared Carinalli,"but we're out here tonight, and I'm super-pumped and I know everyone's super-happy to be out here."
The game began with a moment of silence for lives lost
Then police officers on motorcycles rode onto the field, to widespread applause, recognizing first responders and their role saving people and property during the disaster.
"When the ball is kicked off, we've already won," varsity coach Paul Cronin told KTVU, explaining he took his cues from students, who insisted on forging ahead with their season.
"Talking to the kids, even the ones who had their house burn down, they wanted to get started, it's their senior year, they said let's get going," he recounted, " so that's what we did and our principal agreed and we're excited to be here."
The campus lost 19 classrooms, admissions and counseling officers, soccer and baseball fields, although the football field was undamaged.
"It's very important to those players and to the school as a whole to play these games," said Principal Graham Rutherford, "because it feels like 'we can do this, we still are a school, and we're able to move forward.'"
The game was also an opportunity for Cardinal Newman families to connect and support each other as they cheered on their team.
"It's great to have some normalcy back and be with friends," said parent Jeannie Kelly, whose Coffey Park home was levelled by fire.
Kelly's son Ethan plays on the junior varsity team.
Their family is among ninety from the campus community who lost homes.
"Tonight it's not about the fire, the fire, the fire, and what are we going to do," Kelly smiled, "because this feels more like everyday life again."
After the fire, the already close-knit team is even closer, and learning some lessons about resilience.
"My house burned down in the midle of Coffey Park," varsity receiver Nikko Kitchen told KTVU, "so that's unfortunate, but my family's safe, and that's what matters. It's fun to get back to playing football, something I love, and a good distraction."
At the fire-scarred campus, the theme for this year is "one school undivided" and the principal says the crisis puts that motto to the test.
Starting Tuesday, all 620 students will resume classes, but spread by grade among four Sonoma County parishes, until their Larkfield location is repaired, perhaps early 2018.