The internet loves these Samoan firefighters, aka the 'Singing Crew'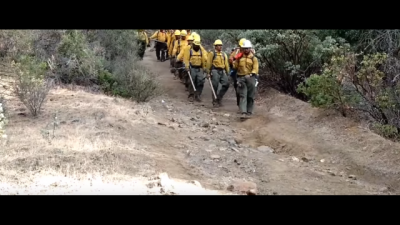 KCBA News
October 23, 2017 3:47 pm
POSTED: OCT 23 2017 09:30AM PDT
UPDATED: OCT 23 2017 03:35PM PDT
Trinity National Forest - A video of a Samoan crew working alongside the US Forest Service, better known as the "Singing Crew," is making its rounds on the internet because of its uplifting spirit amidst the devastating Northern California wildfires.
The video, reportedly shot by Lori Light, shows the men singing as they were coming off a mountain in the Shasta Trinity National Forest, where they are assigned. It was shot on Sept. 27, days before the devastating wildfires broke out, and posted to YouTube on Oct. 13. The first of the most devastating wildfires broke out on Oct. 1 in Napa and Sonoma counties.
Light said on YouTube that she was the videographer, but did not respond to KTVU for comment on Monday.
Forest service spokesman Josef Orosz clarified though that this team does not work for the forest service.
"They put their heart and sole into everything that they do," Jason Bordelon, spokesman for the National Park Service said in an email.
They came to California from Samoa and have since left. They work for the National Park of America Samoa.
The video has since been picked up by a Christian website, Sharing the Word For God.
The US Forest Service commented on its Facebook page that the crew worked hard on the Helena/Fork and Buck fires and received an award from the incident commander for their hard work.
Singing for Samoan fire crews is apparently a regular religious ritual.
Dean Vernarecci of Brentwood, who is a Monterey firefighter, was battling a fire near Oregon in 2015 and witnessed a crew performing a chant and dance.
He thought it was amazing and asked them to sing for his son's 16th birthday because he couldn't be home to celebrate.
"It was a religious thing," he said, "so they had to ask their leader if they could do one of their chants. They said 'Yeah.' It was a great present."
The words of the song posted here were translated by James Stevenson to read:
Fa'afetai i le atua lena tatou tupu ai ina ua na alofa fua ia te tatou uma Tali: ia pepese ia pepese aleluia faafetai ia pepese ia pepese aleluia faafetai Faafetai i lona alo lena afio mai luga le ua fai ma faapaolo mai le puapuaga Tali: ia pepese ia pepese aleluia faafetai ia pepese ia pepese aleluia faafetai Faafetai i le agaga le fesoasoani mai e manuia talosaga atoa uma mea e fai Tali: ia pepese ia pepese aleluia faafetai ia pepese ia pepese aleluia faafetai
In English, the song loosely translates to: Thanks to God. We grow when He has compassion for all of us.  Answer: sing hello songs thank you to sing hello thanks thank you Thanks to his son who comes from above who is a savior from the trouble… Answers : sing aleluia songs thank you to sing songs aleluia thanks Thank you very much for help to succeed in all the answers to all the [problems/trouble]… Answers: answer singing aleluia thank you sing songs thank you thank you.