Napa students return to school after wildfires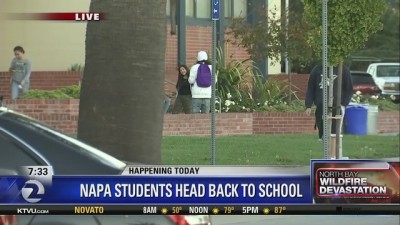 KCBA News
October 23, 2017 3:34 pm
POSTED: OCT 23 2017 08:01AM PDT
VIDEO POSTED: OCT 23 2017 08:50AM PDT
UPDATED: OCT 23 2017 08:56AM PDT
NAPA, Calif. (Allie Rasmus/KTVU) - It's a sign of things returning to a sense of normalcy in Napa County – all public schools are reopening on Monday, after being closed two weeks because of the wildfires and smoke in the region.
The students at Napa High School are among the 18,000 students district-wide, who have now been encouraged to return to class.
"It wasn't a vacation," said parent Lilia Herrera. "It was very stressful."
Student Veronica Morales echoed a similar sentiment. She was tired of staying home. "I'm excited to come back."
Every other public school district in Napa County is also re-opening on Monday, along with Justin Siena High School and Napa Valley College.
Napa Unified will be providing free meals to some of the students who were directly affected by the fires and they will also have counselors on hand to meet with students struggling with the stress and anxiety of the past couple weeks.