Freeway shooting in San Bruno: Ride-share driver struck by gunfire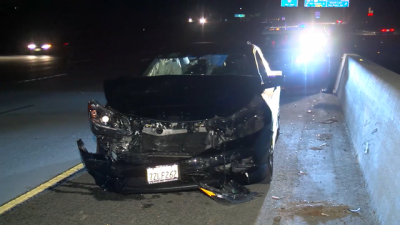 KCBA News
October 23, 2017 3:41 pm
POSTED: OCT 23 2017 05:33AM PDT
VIDEO POSTED: OCT 23 2017 07:00AM PDT
UPDATED: OCT 23 2017 07:08AM PDT
SAN BRUNO, Calif. (Leigh Martinez/KTVU) - The California Highway Patrol is investigating an overnight freeway shooting in San Bruno, where the victim is believed to be an Uber driver coming from San Francisco International Airport.
CHP officers confirmed on Monday that they believe the vehicle was a ride share, possibly Uber, that had picked up passengers from SFO and was driving westbound on Interstate Highway 380 east of the El Camino Real exit when gunfire erupted about 11:10 p.m. Sunday. The driver was hit but the two passengers inside were uninjured.
Officers arrive to find a driver, who they believe drives for Uber, inside with a gunshot wound. "We located a vehicle that was stopped in the center divide," CHP officer Vu Williams said. "It was a black Toyota Corrola with what  looked like several bullet holes. Unfortunately the driver was struck, but fortunately suffered non-life threatening injuries. The other two that were in there were not injured."
There was a second vehicle found with rear-end damage further up on I-380 near the transition to Interstate Highway 280  and a third car with front-end damage and bullet holes in the front window and rear view mirror.
Those drivers were taken to the hospital as well.