French ISIS Terrorists Suspected on Latest Aid Worker Beheading
KCBA News
November 17, 2014 12:51 pm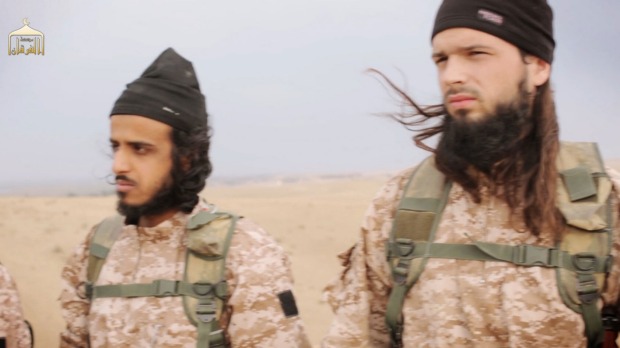 Paris: French prosecutors said on Monday they were investigating two Frenchmen suspected of taking part in the beheading of Syrian prisoners shown in an Islamic State video.
The prosecutor's office confirmed the first was 22-year-old Maxime Hauchard from Normandy in northern France.
The identity of the possible second Frenchman was not given, but state prosecutor Francois Molins said an arrest warrant was released for him in October 2013.
"Considering some elements of resemblance, it could be a young convert born in 1992 who left to join the Islamic State ranks in August 2013," Mr Molins said.
Both men are seen in a brutal video released by the Islamic State group on Sunday which features the killing of 18 Syrian prisoners and a US aid worker.
Interior Minister Bernard Cazeneuve earlier told reporters that Mr Hauchard left for Syria "in August 2013 after a stay in Mauritania in 2012″.
In Hauchard's home village of Bosc-Roger-en-Roumois in the northern Eure district — population 3000 — there was shock at the news of his involvement in IS.
"He did not go to do harm," said a neighbour who watched Mr Hauchard grow up, giving his name only as Rene.
"He was a nice boy who never caused problems. They must have drugged him," said Rene's wife, Jeannine.
A friend of Mr Hauchard, 21-year-old Baptiste, said he was someone "who passed quickly from one interest to another".
Mr Hauchard reportedly became radicalised online, where he joined jihadist forums under the moniker Abu Abdallah al Faransi ("the Frenchman").
In July he spoke over Skype with French TV news channel BFM from the Syrian city of Raqqa — an IS stronghold — saying he had travelled from Paris via Istanbul.
He said the ticket was "not expensive" and he had taken no precautions to hide his journey.
Mr Hauchard said he had converted to Islam at 17 and decided to join the jihad after watching videos online.
He said he travelled alone and had quickly been taken under the wing of IS once he entered Syria.
"To show allegiance, you must first go to a training camp. The first stage lasts around a month. We do some training, we go on operations and after that we return to training. It's not just theory," he told BFM.
He said he lived in barracks with around 40 other jihadists — mostly Arabs from Egypt, Morocco and Algeria, but also France.
"The personal objective of everyone here is shahid (martyrdom). That is the greatest reward," he said.
Mr Molins noted that Mr Hauchard was "far from an isolated case".
Around 1000 French nationals are thought to have taken part in the conflict in Syria and Iraq, with around 375 currently there, the government has said. At least 36 have died there.
Overall, some 3000 Europeans have joined the jihadists, EU counterterrorism chief Gilles de Kerchove said in September.