Protesters Planning to Shut Down Missouri City After Brown Decision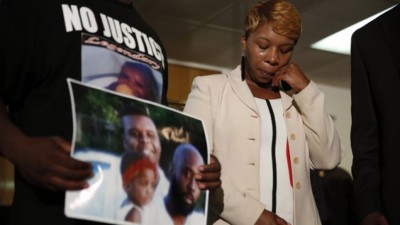 KCBA News
November 14, 2014 2:45 pm
Protesters in Missouri are reportedly planning to shut down Clayton following a grand jury decision on whether a suburban St. Louis officer who shot unarmed teen Michael Brown should face charges.
The protesters want to financially hurt Clayton, a city of roughly 15,000 residents that borders St. Louis, where organizers met late Thursday to hopefully attract hundreds if not thousands of people to show up on the first workday after the grand jury reaches a decision.
The protesters will meet in public spaces and may spread out in small groups, possibly to take part in civil disobedience like shutting down roads.
"We want people to know these meeting are about non-violence direct action," said Michael McPherson, co-chair of the Don't Shoot Coalition. "Some of it will be people talking to people, expressing themselves. There's nothing we're doing to try to create violence. We don't want to diminish tension without there being change."
Police in Clayton did not return requests for comment. A spokesman for St. Louis County Police said they will support Clayton officers however needed, KTVI reports.
Several churches in the region are planning prayer vigils and to offer food, shelter, even medical care. A coalition of 11 churches, mostly in and near Ferguson, announced a partnership Friday with two school districts to provide support for children and their families after the grand jury announcement.
On Thursday, attorneys for Brown's family urged restraint by both protesters and police once the grand jury reaches a decision. Attorneys Anthony Gray and Benjamin Crump spoke outside the St. Louis County Justice Center, where the grand jury is meeting and Dr. Michael Baden, who performed a private autopsy on the family's behalf, was testifying. Brown's parents, who were in Geneva this week as the U.N. Committee Against Torture heard testimony about U.S. policies, did not attend.
Gray and Crump echoed Gov. Jay Nixon's call for protesters to avoid rioting, looting and violence, but faulted him for not also calling on police to exercise restraint.
Police were widely criticized for using armored vehicles and tear gas to respond to mostly peaceful but occasionally violent protests in the days after Ferguson Officer Darren Wilson shot Brown, who was 18 and unarmed, after telling him and a friend to stop walking in the street.
Wilson told investigators he felt threatened while fighting with Brown from inside a police SUV, where an initial shot was fired, according to information provided to news outlets by people described as familiar with the investigation, but not otherwise identified.
Those same accounts said Wilson told investigators that after Brown fled the vehicle, he turned around in a threatening manner, prompting Wilson to fire the fatal shots. But some witnesses said Brown had his hands up.
Baden had earlier said Brown was shot at least six times, while the county autopsy determined he was shot six to eight times. A third autopsy conducted for the U.S. Department of Justice, which is investigating both the shooting and the Ferguson Police Department, has not been released.
Attorney General Eric Holder said Justice Department officials have been working with local officials to make sure the law enforcement response to any protests is appropriate.
"Certainly we want to ensure that people who have First Amendment rights have the ability to protest as they deem appropriate while at the same time making sure that we protect people in law enforcement and that we minimize the chances that any legitimate protest devolves into violence," he said.