Comedian Joan Rivers on Life Support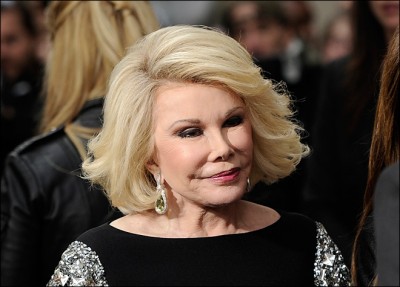 KCBA News
September 2, 2014 4:25 pm
NEW YORK –  It has been five days since comedian Joan Rivers was rushed to the hospital after she stopped breathing during a minor medical procedure, and despite a report from Rivers' network E! that she was "on the road to recovery," her family has revealed the comedy legend is on life support.
Her daughter, Melissa Rivers, said in a statement Tuesday that her mother is on life support "at this time." Melissa said the family is extremely grateful for the public support.
Joan Rivers was taken to Mount Sinai Hospital in Manhattan last Thursday. The 81-year-old went into cardiac arrest after she stopped breathing during a minor procedure.
Melissa Rivers said Tuesday that she knows her mother would be overwhelmed by the continuing outpouring of kindness.
Rivers' E! colleague Ken Baker insisted on Tuesday that the sharp-tongued TV host was doing better, though her family's statement seems to contradict the claim.
"I spoke to someone who is close to the situation and has been to the hospital," he said during a daily webcast. "She is still in serious condition, however, the source that I spoke to said things are progressing. She is on the road to recovery… this is not some dire, doomsday situation like you may have read."
Meanwhile E! told FOX411 that filming had been suspended on "Fashion Police."
"We will not be producing a 'Fashion Police' this week or next as we await Joan and Melissa's return in front and behind the camera," a rep said. "E! will be airing two 'E! From Fashion Week' specials that will deliver the latest news and information from the highly-anticipated event."