6.0 Quake Rocks Napa Wine Country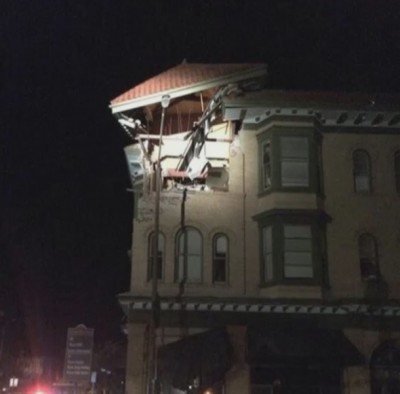 KCBA News
August 24, 2014 11:47 am
NAPA, CA – A magnitude 6.0 earthquake hit Northern California near Napa Valley Sunday, injuring 89 — 3 critically — and causing extensive damage, including fires sparked by burst gas lines, in the largest tremor to rock the Bay Area since the magnitude 6.9 Loma Prieta quake in 1989.
Leslie Gordon of the U.S. Geological Survey says the tremor struck just before 3:30 a.m. Sunday local time, about 10 miles northwest of American Canyon, which is about 6 miles southwest of Napa.
The city of Napa said in a statement Sunday that two adults and one child have critical injuries, and Queen of the Valley hospital in Napa reported treating 89 people. Hospital spokeswoman Vanessa DeGier says most patients have cuts, bumps, bruises.
Officials say widespread power outages have been reported in Sonoma County.
Napa City Manager Mike Parness said the city declared a local emergency at 8:59 a.m. California time, which is the first step in getting more help from the state.
"We're asking the governor to declare a state of emergency," Parness said during a news conference.
John Callahan of the Napa City Fire Department said there were a half-dozen multiple structure fires. One was at a mobile home park where four mobile homes have been destroyed by fire, and two others suffered major damage.
Public Works Director Jack LaRochelle assured residents the water has not been contaminated.
"The water is safe to drink," he said.
A number of buildings are damaged, but no number on how many was reported.
The city's 911 emergency call system was maxed out, according to Napa Police Department operations captain Steve Potter, but he said there have been no reports of major disturbances. "We have relative calm for this magnitude of an earthquake," he said.