Salinas Demonstration Set for Sat 7/12 In Wake of 4th Officer Involved Shooting
KCBA News
July 11, 2014 5:16 pm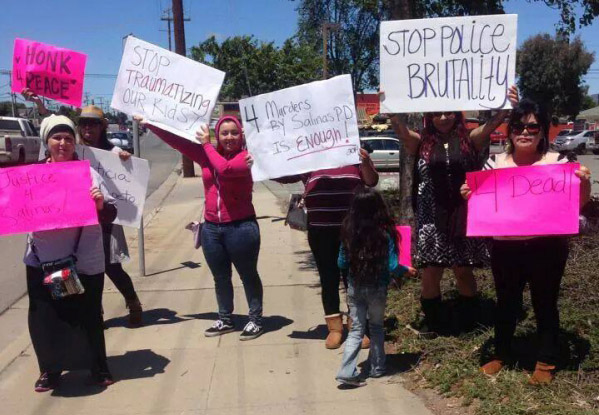 (Salinas, Ca – Entravision / KCBA – Fox 35) Law enforcement authorities may not be saying much about Thursday's fatal officer-involved shooting of 40-year-old Frank Alvarado, but the community is prepared to speak out.
A community rally against police violence is scheduled for Saturday, July 12th at the corner of Fairview and Sanborn Road near where the shooting happened.  The rally will take place from 6p – 9p.
The community is already beginning to voice their outrage following this, the 4th officer-involved shooting in Salinas this year. Small protests could be seen in the area as people held hand-made signs expressing their concern and calling for an end to the violence.
Very little information is being released about the incident.  The Salinas Police Department as turned over the case to the Monterey County District Attorney's Office.  All that is being released by authorities so far is that the shooting happened at at 5:00 am at the near the Fairview Apartments at Fairview and Beverly Drive.  Officers were called to the area by a citizen, but aren't releasing details of the nature of the call. Alvarado was transported to Natividad Hospital where he was pronounced dead.
Witness report hearing between 4 and 12 shots ring out.  It is unknown if Alvarado was carrying a weapon or what he was doing in the area, which was just a short distance from his grandfather's home where he was staying.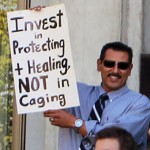 More information about Frank Alvarado is surfacing today.  The Monterey County Weekly reports that Alvarado was interviewed by the newspaper in May.  In that interview it was revealed that Alvarado had just been released from prison in July 2013.  He spent 10 years in prison for attempted murder.  The sentence stemmed from an incident where Alvarado tried to kill his sister-in-law's husband. Alvarado accused the man of trying to run over his wife.  Alvarado says he was trying to turn his life around.  Upon his release from prison, he searched for his victim on Facebook, found him and apologized.
In May of this year, Alvarado spoke publicly about prison reform.  A portion of his comments were captured on Youtube.
The is the fourth officer-involved shooting in Salinas this year.  As in the other cases, the officer or officers involved in this shooting have been placed on paid-administrative leave.  The names of the officers are not being released and it is unknown if they have been involved in similar incidents.
On March 20th Angel Ruiz, 42, was fatally shot by police outside the Wing Stop Restaurant on Constitution Blvd.  Just 9 days later, Osman Hermandez, 26, was fatally shot outside Mi Pueblo Food on East Alisal.  Then on May 20th Carlos Mejia was fatally shot outside a bakery on Del Monte Avenue near Sanborn Rd.  These three previous cases are being investigated by the Salinas Police Department and the findings will be turned over to the District Attorney's office for review.