Chased by police in a stolen vehicle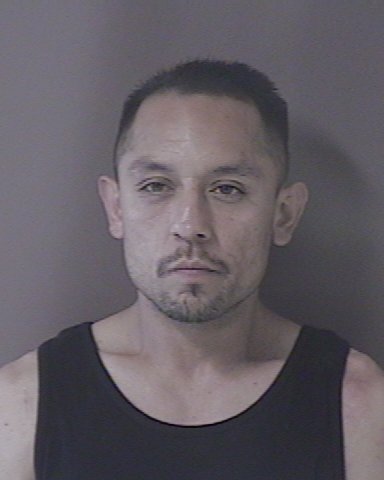 KCBA News
April 8, 2014 3:29 pm
(Entravision) Hollister, CA. – April 8, 2014- On Monday, April 7, 2014 about 2:00 PM, Rudy Gonzales (30) was arrested by the Hollister Police Department after a vehicle pursuit in a stolen vehicle.
A San Benito County Probation Officer contacted School Resource Officer (SRO) Bo Leland after he received information of a wanted suspect in possession of a stolen vehicle in the 900 block of Memorial Drive. San Benito County Probation coordinated with SRO Leland, who was in the area of Sunnyslope Elementary School. Probation Officer Scimeca and SRO Leland observed the suspect and stolen vehicle in the parking lot of an apartment complex.
Probation Officer Scimeca and SRO Leland approached the suspect in the vehicle. As the two officers ordered Gonzales to exit the vehicle Gonzales ignored all commands and placed the stolen vehicle in reverse, causing it to collide with both a Hollister Police Department patrol vehicle and a San Benito Probation vehicle. Gonzales then attempted to evade the officers by driving northbound on Memorial Drive. Gonzales attempted to turn westbound onto Meridian but lost control and collided with a tree.
Officers approached the vehicle and ordered Gonzales to exit the vehicle; Gonzales ignored commands and fled on foot westbound crossing Memorial Drive and ran onto Marguerite Maze School grounds.
SRO Leland and responding Hollister Police Officers quickly detained Gonzales at the front of Marguerite Maze School. No students were involved in this incident; also no injuries to officers or the suspect was reported in this incident.
Gonzales was transported to San Benito County Jail where he was booked on the following charges: Assault with a Deadly Weapon,Vehicle Theft,  Possess a Stolen Vehicle,  Resist Arrest, Felony Evading a Peace Officer,  Hit and Run, and an outstanding Warrant.
The Hollister School District and the City of Hollister share the cost of providing a School Resource Officer; this partnership allowed the Hollister Police Department to have one additional officer on duty at the time of the  incident. Just as important is our commitment to work closely with our public safety partners in San Benito County as highlighted in this incident with the San Benito County Probation Department.
If anyone has information related to this investigation please contact the Hollister Police Department at 831-636-4330. Persons wishing to remain anonymous may call WeTip at (800) 78-CRIME. Information provided to WeTip may qualify for a reward.