Exposed in London a valuable Fabergé egg discovered at a flea market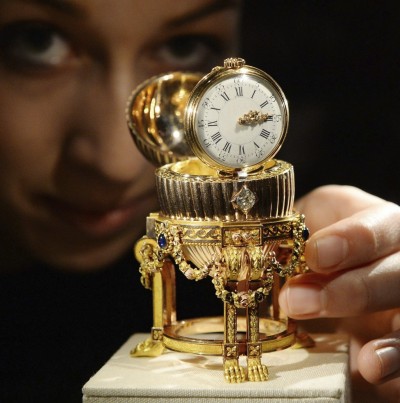 KCBA News
April 7, 2014 9:59 am
London, Apr 7 (Entravision) .- The London house Wartski today presented a valuable Easter egg of the Russian jeweler Carl Faberge, which was acquired by a scrap dealer in a American antique/flea market set up after being gone since 1902.
The so-called third imperial Easter egg, barely 8.2 centimeters, carved in gold and decorated with diamonds and sapphires, hides a clock of the luxurious brand "Vacheron Constantin" and is valued at 20 million pounds ( $33 million).
The London house Wartski, specialist in the legacy of Faberge, expose the piece to the public from 14 to 17 April, before returning it to its new owner, who was bought it from the scrap dealer.
This imperial Easter egg, designed by Faberge to tsar Alexander III is the giveaway to the Tsarina Maria Feodorovna in 1887, was found by a scrap dealer american millionaire, currently at a flea market of second-hand objects in a village in the Midwest of the US by about 8,000 pounds (13,300 dollars).
The great Russian jeweller of the early twentieth century, Carl Gustav Faberge, who worked for the past czars of the Romanov dynasty, Alexander III and Nicholas II, I think 50 eggs with unique designs and luxurious eight of which were missing.
The third imperial Easter egg is one of these eight works that have been recovered that was "almost a gift from God", said today to the Efe, Kiaran McCarthy, director of the casa Wartski.
"Their discovery is unique, has not been found until now none of the eight eggs missing. So, when we learned of their existence and arrived here, was one time very lovely," said MvCarthy.
These eggs, created with materials such as jade, gold, silver or agate, often contain within small objects or delicate jewelry manufactured with emeralds or rubies, among other precious stones.
Gustav Carl Faberge inherited a modest jewelry of her father located in St. Petersburg.
After having studied and travelled extensively in Europe, the company succeeded in relaunching of decorative objects, arriving to employ up to 500 employees among jewelers, silversmiths and carvers in St. Petersburg,