The deluge of 'Noah' and the action of 'sabotage' are hitting screens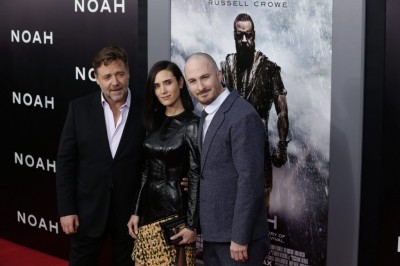 KCBA News
March 28, 2014 10:07 am
Los Angeles (USA), Mar 27 (Entravision) .- The universal deluge reflected by "Noah", the biblical character played by Russell Crowe, and the action without brake for "sabotage", with Arnold Schwarzenegger to the front, are the major developments of the billboard us for the weekend.
"Noah", a project born from the passion of the director Darren Aronofsky, the Oscar-nominated by "Black Swan" (2010), is based on the character of Noah and their apocalyptic visions on the universal deluge, which give rise to a great visual spectacle at the service of the well-known biblical story, although counted in an unconventional manner.
The devout carpenter, theoretically directed by God, you have to build a huge ark to save his family and a number of species Of animals. The film's cast includes to Crowe, Jennifer Connelly, Ray Winstone, Emma Watson, Logan Lerman and Anthony Hopkins, among others.
"sabotage", David Ayer ( "End of Watch" ), follows the trail of a special team of the Drug Enforcement Agency (DEA) sent to put an end to the headquarters of a major network of drug traffickers. However, the real purpose of his visit is not to stop the criminals, but made with a succulent booty millionaire.
With the money hidden in a safe place, your plan starts to disintegrate when a unknown begins to assassinate one by one the members of the police group. The cast includes to Schwarzenegger, Sam Worthington, Joe Manganiello, Mireille Enos and Josh Holloway, among others.
it was also released "Cesar Chavez" and "The Raid 2 " .
"Cesar Chavez", the Mexican Diego Luna, commemorates the history of the American peasant leader who fought for the civil rights of workers in the field and led several protests against the abuses of the big corporations.
The story, starring Michael worth, America Ferrera, Rosario Dawson and John Malkovich, focuses on the historic strike and the boycott of the grape workers in Delano (California) in the 1960s, in addition to reflect as the activist was discussed between their obligations as a husband and father.
"The Raid 2 ", of Gareth Evans, proposes An immediate follow-up to the events of the first delivery, in which a member of the special forces of incognito begins a suicidal mission in a building that has become a sanctuary for murderers, gangsters, thieves and rapists.
In this occasion, its goal is to expose the corruption in the trade unions and the police of Jakarta.