Tokyo commemorates the attacks of sarin gas in their nineteenth anniversary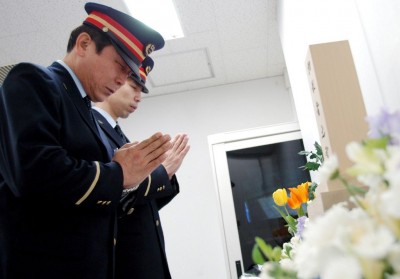 KCBA News
March 20, 2014 10:42 am
Tokyo, Mar 20 (Entravision) .- Employees of the Tokyo subway commemorated today with the sarin gas attacks perpetrated on the underground in the Japanese capital 19 years ago by the Supreme Truth sect, an attack that caused 13 deaths and more than 6,000 wounded.
some twenty workers at the company Tokyo Metro observed a minute of silence in the Kasumigaseki station, one of the most affected by the attack made the morning of March 20 1995.
Among the fatalities there were two employees of this station that removed packages filled with sarin, a nerve agent extremely harmful, deposited on the inside of a wagon by members of the sect.
"Our duty is to ensure the security of Daily and we need people to take the metro with all calm", he told the agency Kyodo, the chief of station, Mitsuaki Ota.
in a coordinated manner, five members of the sect took two trains different in rush hour the morning of March 20 and there were placed and were drilled with their umbrellas several bales of sarin gas.
The fluid, colorless and odourless, who shed the packets reached almost instantly the gaseous state and was spread by the wagons in a few minutes.
The attack, the worst terrorist act suffered by Japan, caused the death of 13 people and affected about 6,300 , many of whom are suffering from serious physical consequences today.
In the other five stations where Recorded fatalities were lifted today also altars so that people can leave floral offerings.
Since 1996 the courts have been processed to nearly 200 members of Supreme Truth, issued five sentences of life imprisonment and confirmed 13 death sentences, including its founder, Shoko Asahara, whose real name is Chizuo Matsumoto.
For the moment, there was no implementation because three members of the sect recently arrested are being processed and the Japanese law stipulates that all of the judgments of the accomplices of the offense must be strong before you can apply the death penalty.