Cali and National, a new encounter with taste of revenge in the local tournament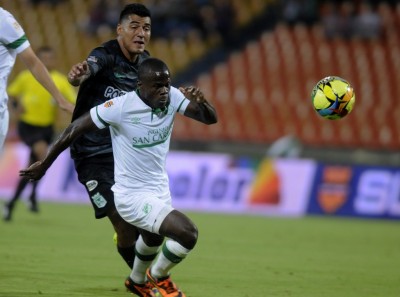 KCBA News
January 31, 2014 8:43 am
Bogota, Jan 31 (Entravision) .- a new encounter with flavor to rematch grand prix this weekend between Deportivo Cali and the current champion, Atletico Nacional, in the party that will close the second day of the Colombian League Football.
Cali just to beat the national title of the Colombian Superliga, who assured him a quota in the South American Cup, and expected to ratify the Sunday that his triumph was not a coincidence, but the result of a good job of the team that runs the Colombian former coach Leonel Alvarez.
However, at the start of the local championship, Cali joined his first defeat to Boyaca Chico by 2-1, while national was one of the winners to overcome 3-1 in Medellin.
It was also pointed out in this second day of the first classic of Barranquilla between the Atletico Junior and one of the new tenants of the first, the Autonomous University.
The Junior comes to defeat of visitor to the Atletico Huila, 3-2, while Autonomous University defeated by the same marker to the Deportes Tolima.
In the meantime the first leader of the tournament, the Independent Santa Fe, which comes from 3-0 victory against the Itagüí, visit this Saturday to Fortaleza, which in its debut in the first category fell 3-1 to the Once Caldas.
The reds of Bogota are expected to continue gaining in the local tournament, without neglecting the Copa Libertadores, in that next Tuesday will face in the party back to Morelia in the mexican The Campin stadium. In the first leg in Mexico have lost 2-1.
For its part, the Medellin will pay this night the second date of sanction imposed by the Major Division of the Colombian football (Dimayor) by the bad behavior of the fans in a game against Atletico Nacional of the last tournament, which is why play with Deportivo Pasto in the Atanasio Girardot behind closed doors.
- Parties of the second day:
Friday: Patriots – Once Caldas
Independiente Medellin – Deportivo Pasto
Saturday: Alliance Oil – Boyaca Chico
Atletico Junior – Universidad Autónoma
Fortress – Independent Santa Fe
Sports Tolima – Envigado
Sunday: Itaguí – Athletico Huila
Millionaires – Equity
Deportivo Cali – Atletico Nacional.