Kerry will meet tomorrow with the Vatican Secretary of State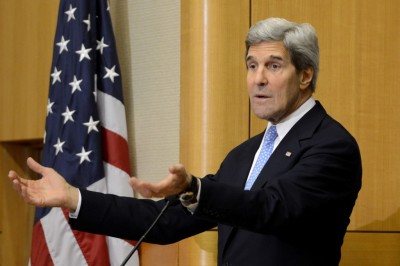 KCBA News
January 13, 2014 10:08 am
Washington, Jan 13 (Entravision) .- The Secretary of State for U.S. , John Kerry, will travel tomorrow to the Vatican to meet with the Secretary of State Pietro Parolin, today announced the State Department spokesman, Jen Psaki.
Kerry and Parolin converse about "foreign policy priorities, including the open leadership of the Pope Francis in the Middle East peace process, the (fight against the) poverty and humanitarian affairs", Psaki said in a statement.
"The United States appreciates the vital role of the Vatican on a global scale, and his leadership in international affairs and peace efforts", he added the spokesman.
This year marks 30 years since the establishment of diplomatic relations between the United States and the Vatican, recalled the Department of State.
Kerry will be the first secretary of State catholic who visit the Holy See since 1980, when he traveled to the Vatican the then head of the American diplomacy Edmund Muskie.
The Foreign Minister will travel to the Vatican from Paris, where on Sunday met with his Russian counterpart, Sergei Lavrov, to accelerate the peace process in Syria, which passes through the conference scheduled for January 22 in Geneva between all the parties concerned.
After your stop at the Holy See, Kerry will travel to Kuwait City, where he will head the wednesday the US delegation at the Second Conference of Promise of International Humanitarian Aid to Syria, coordinated by the Emir of Kuwait, Sabah Al Ahmed Al Jaber Al Sabah, and chaired by the secretary-general of the UN, Ban Ki-moon.