Bachelet agrees to carry out a coordinated work with President Supreme Court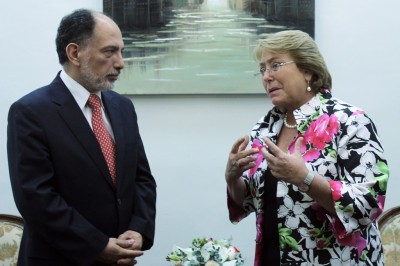 KCBA News
January 8, 2014 3:13 pm
Santiago de Chile, Jan 8 (Entravision) .- The new president of the Chilean Supreme Court, Sergio Muñoz, today met with the governor elected Michelle Bachelet, at a meeting in that both are committed to develop a coordinated work, without addressing major issues facing the new Government that will begin in March.
"What we've talked about on this occasion is only for coordination and to visualize a collaborative working together, we have not mentioned any aspect that is related to the realization of the Government programs that she has driven," said the judge after the meeting.
"In the projects that it will inspire we are going to be expectantly (on) what they are going to be their initiatives", he added Muñoz in reference to the mandate that Bachelet will assume from next March 11, after winning the second round of the presidential elections this past December 15.
Muñoz, who assumed the presidency of the Supreme Court this Monday, it has not yet met with the current president, Sebastián Piñera, whose Government has been marked by several disagreements with the judiciary, which has been accused of being bit harsh in their judgments and of failing to promote the fight against crime.
Despite this, Munoz said not to have "no problem with the current Government".
"I have expressed on more than one occasion, there is a favorable opinion with regard to the Government of Mr Pinera, may have different views on what is some specific points," said the judge.
Muñoz, 56, is the youngest judge to preside over the Supreme Court in 100 years. His career has been marked by emblematic cases of human rights and the investigation of the secret accounts of the former dictator Augusto Pinochet.