December 1st – 17th, 2017
Christmas on the Wharf
Monterey's Old Fisherman's Wharf
Time: Friday evenings from 5:00 p.m. – 9:00 p.m., Saturdays from 11:00 a.m. – 9:00 p.m. and Sundays from 11:00 a.m. – 9:00 p.m. Location: Old Fisherman's Wharf, 1 Old Fisherman's Wharf, Monterey, CA Save the date for this fabulous holiday destination and be sure to bring your family and friends this holiday season to create wonderful memories at Monterey's Old Fisherman's Wharf! Monterey Fisherman's Wharf Association is proud to sponsor and hold its 2
nd
 Annual "Christmas on the Wharf" Weekend festivities on Old Fisherman's Wharf in Monterey, California featuring great holiday entertainment, a dazzling array of beautiful holiday lights and decorations, a 19-foot Christmas tree, free sweet treats, free Santa "meet and greet" visits, photo ops with Santa and lovely holiday princesses and much more! Beginning Friday, December 1
st
 through Sunday, December 17
th
, on Friday evenings from 5:00 p.m. – 9:00 p.m., Saturdays from 11:00 a.m. – 9:00 p.m. and Sundays from 11:00 a.m. – 9:00 p.m., families are encouraged to come meet Santa and create wonderful memories with free Santa visits at his "house" and have a photo op for kids and family. Christmas holiday princesses will also be on hand to greet the children and for photo ops on Fridays from 6:00 p.m. – 8:00 p.m., on Saturdays from 1:00 p.m. – 3:00 p.m. and 6:00 p.m. – 8:00 p.m. and on Sundays from 1:00 p.m. – 3:00 p.m. There will also be a toy drop at Santa's house for Salvation Army. Each weekend, there will be complimentary hot chocolate, coffee, apple cider and cookies (Friday, Saturday and Sunday) at the Wharf tent courtesy of Fisherman's Wharf Association and Old Fisherman's Grotto.   There will also be free drawings for a dinner for two and more. Christmas carolers and live entertainment will also be featured each weekend. And, there will be great Christmas shopping, dining, whale watching, fishing, watching marine life and more fun this holiday season on the Wharf. The Wharf businesses will be beautifully decorated with lots of colorful holiday lights and a majestic lit Christmas tree. Ice Skating By the Bay and the Dali17 at the Museum of Monterey will be available for visits in the adjacent Custom House Plaza. On December 8
th
 and 9th and 10th, the Wharf will be a stop off during the Christmas in the Adobes tours in downtown Monterey.
Many of the restaurants, stores and other businesses are open 365-days a year and you can celebrate your special holidays at the Wharf.
There will also be many Christmas specials provided by Wharf merchants. Charlie Brown Christmas will be performed on weekends at the Wharf Theatre. For more information, please visit
https://www.montereywharf.com/event/christmas-on-the-wharf.html
December 15th, 16th and 17th
Artisan's Holiday Boutique
Gilroy Center for the Arts
Perfect for the last minute shoppers, our Artisan's Holiday Boutique is a showcase for Artists to sell their work. One of kind gifts for everyone in the family. Artists include:
Glassybaby
 (handmade glass candle holders & glasses)
Alison Milligan
 (hand stamped vintage flatware & soy candles)
Cindy Couling
 (pottery, ornaments, jewelry & paintings)
Visions By Ron
 ( gemstone carving & jewelry)
Marianne Eichenbaum
 (Paintings, cards, ceramic tiles & jewelry)
Wendy Lopez
 (wood planters, garden decorations, floral)
Julia Brodersen
 (Peruvian handcrafted jewelry & clothing)
Susan Graeser
 (Paintings and handmade items) and more! For more information, please visit
http://www.gilroycenterforthearts.com/events.html
December 16th, 2017
The Merry Carolers Perform in Old Monterey 2017
The Old Monterey Business Association
Time: 12:00pm to 4:00pm Location:
Old Monterey District
, Alvarado St and Franklin St, Monterey, CA 93940 The Old Monterey Business Association presents 
The Merry Carolers
, singing and spreading good cheer on Alvarado Street every Saturday, 12pm-4pm, December 2-23. Bring the whole family and enjoy a relaxing afternoon in Old Monterey. For more information, please visit
https://www.oldmonterey.org/event/2017/12/merry-carolers-perform-old-monterey-2017-1
December 16th, 2017
FREE Community Flu Clinic at Northridge Mall
Salinas Valley Memorial Healthcare System
Time: 11:00am – 2:00pm Location: Northridge Mall – Center Court area Salinas Valley Memorial Healthcare System (SVMHS) is partnering with the Monterey County Health Department to offer free flu vaccines to families who haven't been vaccinated this season. SVMHS is hosting two flu clinics in December– one at Martin Luther King, Jr. Academy in Salinas and a second clinic at the Northridge Mall also in the city of Salinas. The Healthcare System has already hosted two free community flu clinics in October and November. "We want everyone in our community to be protected from the flu," says Pete Delgado, President/CEO of Salinas Valley Memorial Healthcare System. "This is why we teamed up with the Monterey County Health Department to host additional flu clinics this season. "We hope people will take advantage of these opportunities to get vaccinated." In addition to the flu vaccine, limited doses of the Pneumonia and Tdap vaccines will also be made available to the public for free. The Centers for Disease Control and Prevention (CDC) recommends people over the age of 65 get a Pneumonia vaccine. Pneumonia is an infection of the lungs which can make people very sick. The CDC recommends a single dose of Tdap vaccine for people ages 11 and older who have not previously received it. The Tdap vaccine helps protect adolescents and adults against three diseases-tetanus, diphtheria and pertussis commonly known as whooping cough. The CDC is not recommending the use of the FluMist for the upcoming flu season. The first community flu clinic in the month of December will take place Saturday, December 2
nd
 between 11am and 2pm. The walk-up clinic will be located in the Family Resource Center of the Martin Luther King, Jr. Academy at 925 North Sanborn Street in Salinas. The second flu clinic will take place Saturday, December 16
th
 between 11am and 2pm at Northridge Mall near the center court. The Northridge Mall is located at 796 Northridge Mall, Salinas. There is free parking at both locations. The free flu clinics will provide traditional shots as the most effective vaccine. The CDC reports fewer than half of Americans get an annual flu immunization, even though the agency reports on average, the flu kills about 24,000 people each year in the United States. Registered nurses from SVMHS will be administrating the free vaccines on a first come, first serve basis and quantities are limited. For more information visit 
svmh.com/flu
 or call 
831-759-1890
.
Community Foundation for Monterey County
Big Sur Relief Foundation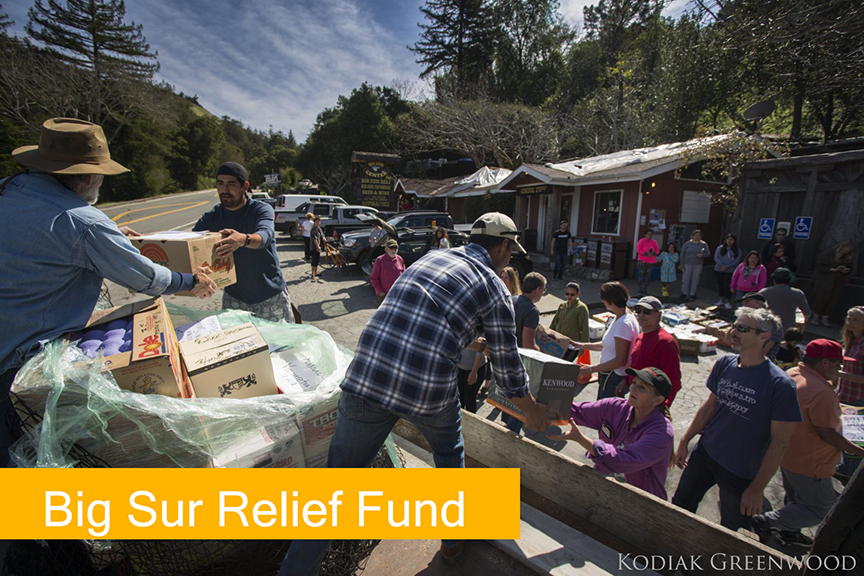 The devastating Soberanes Fire and this winter's heavy rains have caused tremendous hardship for Big Sur residents, employees and their families. HWY 1 is closed with massive mud slides, and Pfeiffer Canyon Bridge – the lifeline that connects the North and South – has been declared unsafe and has been condemned. Iconic businesses like Esalen, Nepenthe, Deetjen's Big Sur Inn, Ventana, and Post Ranch are all temporarily closed. Over 1,000 Big Sur employees are out of work, and hundreds of families have been displaced. Thousands of people are in need of food, housing, and immediate assistance. In light of these unique and challenging circumstances, several businesses have come together to raise funds to provide relief for local individuals and families. The Big Sur Relief Fund at the Community Foundation for Monterey County (CFMC) will provide relief and emergency assistance to those affected.
Donate Now
Your gift will support the affected residents and individuals working in Big Sur in Monterey County, California and is fully tax deductible. 
100% of donations will be used for relief and assistance.
For more information on how to donate visit 
www.cfmco.org/BigSurRelief
 or
Mail a check: Community Foundation for Monterey County 2354 Garden Road, Monterey, CA, 93940 "Attention: Big Sur Relief Fund"
Donate by Phone Call 831.375.9712 Monday through Friday 8:30 AM to 5:00 PM
Contribute Appreciated Stock Please contact Christine Dawson, Vice President of Philanthropic Services, for details at 831.375.9712 ext 126.
All donations to the Big Sur Relief Fund are tax deductible. Tax ID # 94-1615897
Email your community events to: KCBACalendar@entravision.com