***FEATURED EVENT***
September 29th, 2018
Boardwalk Bites & Brews
Santa Cruz Beach Boardwalk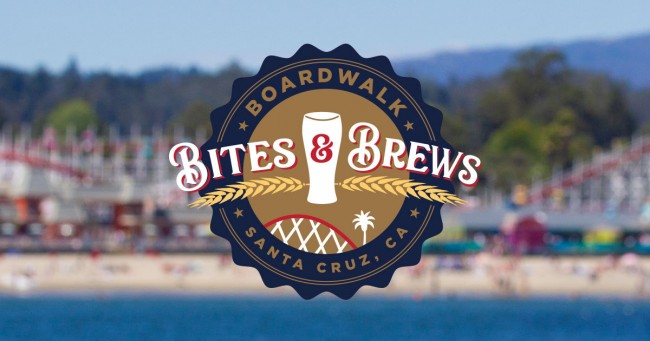 Everyone's favorite amusement park foods paired with the Bay Area's best craft beers!
More than two dozen local craft beers
Live music
Purchase event passports now!
https://www.beachboardwalk.com/boardwalk-bites-brews
August 17th – 19th, 2018
Sand City West End Celebration
Time: Friday 7pm-11pm, Saturday 11am-6pm • Sunday 11am-5pm Location: Throughout the streets of Sand City, Sand City, CA Sand City's 17th Annual West End Celebration is a free, family-friendly event celebrating the diversity of artistic talent to be found within Monterey County and beyond. This unique three-day celebration of community, commerce, and culture transforms the streets of Sand City into a Celebration of the Arts of every genre. Thousands of residents and visitors will discover innovative art, listen to continuous live music from multiple stages, and have an opportunity to purchase works from local painters, sculptors, and multimedia artists. Delicious, gourmet foods, and local, craft beer will be available, as well as wine tasting from local wineries. For more information, please visit
http://www.westendcelebration.com/
.
August 19th, 2018
26th Annual Polynesian Festival & Aloha Outrigger Races
City of Santa Cruz
Time: 8:00 AM - 5:00 PM, Outrigger Races 8:00 AM -12:00 PM, Polynesian Festival 11:00 AM - 5:00 PM Location: Municipal Wharf, 21 Municipal Wharf, Santa Cruz, CA 95060 Join us for the 26th Anniversary of the Aloha Polynesian Festival and Outrigger Races! A fun day to cheer on friends in the Outrigger Races, delight in island-style music and Polynesian dancing and enjoy a taste of the tropics with shaved ice and festive drinks. Vendors line the Wharf with unique items perfectly catered to the Polynesian theme. Performance Line Up: 11:00 AM - Kalae Miles Davis & Ladies of Mehana 12:00 PM - Nate Kanae & Friends 1:00 PM - Mango Kingz 1:30 pm - Outrigger Race Results 2:30 PM - Ho'omana Band & Ha'a Hula / Te Reva O Te Manu 3:50 PM - Victor Ohana Band & Te Hau Nui. For more information, please visit
http://www.cityofsantacruz.com/Home/Components/Calendar/Event/10862/650
.
October 27th, 2018
2018 Harvest Festival at Pacchetti Dog Park
Time: 11:00am to 2:00pm (Judging starts at 12:30pm) Location: Noche Buena St & Kimball Ave, Seaside, California 93955 The Harvest festival will include an all-you-can-eat lunch, dog costume contest, vendors and more! Pacchetti Dog Park is a community dog park run by volunteers. Our park has 1.7 acres that run along Kimball Ave ending at Noche Buena St. where dogs can get "up to speed" and get it "out of their system." A separate area for small dogs and a path swept daily by volunteers, our park has trees, sun, sometimes a cool wind, and a bit of ocean view. For more information, please visit
http://www.pacchettidogpark.org/
.
*** Recurring Event: Every 2nd and 4th Tuesday of each month
Domestic Abuse Support Group
YWCAMC Resource Center
Location: 114 Church Street, Salinas, CA 93901 Domestic abuse is severely misunderstood in our culture.  This fact makes finding support difficult.  If you join this group, you will find a physically, mentally, and emotionally safe place to share your experiences and to process how your past or current abuse is affecting your life.  To honor where you are in the healing process, you will never be required to share.  The group members with help each other to regain their confidence and self-worth, and hopefully help each other learn how to take the next steps to put an end to the violent situation that they may find themselves in. To register for group, call or email Rhonda Burchett at 831-422-8602 or
rburchett@ywcamc.org
. Preregistration is not required, but encouraged. Support group is free and confidential.
Email your community events at least two weeks in advance to: KCBACalendar@entravision.com