*** FEATURED EVENT ***
September 28th, 2019
Boardwalk Bites & Brews
Times: 10:30am – 8:00pm
Location: Santa Cruz Beach Boardwalk, 400 Beach St, Santa Cruz, CA 95060
Our newest food festival celebrates everyone's favorite Boardwalk foods paired with the Bay Area's best craft beers! Local brewers have been challenged to select (or brew up) a beer that best complements a Boardwalk menu item. With foods ranging from lobster tacos and garlic fries to deep-fried Twinkies and Philly cheesesteak sliders, the intriguing combinations offer a little something for everyone. For more information visit 
https://bit.ly/2M3dSdz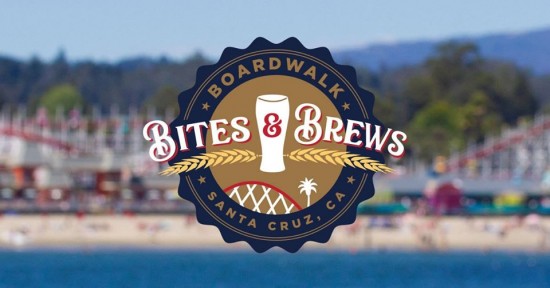 September 21st, 2019
Movement & Stillness at the Beach
Times: 11:30am –12:30pm
Location: Monterey Municipal Beach (Beach access across from Camino Aguajito), Monterey CA
Join us for a shared experiencing of the beach and the warmth of community. In movement, we embody the qualities of earth, wind, and water. In stillness, we take in sounds, smells, sights, the feel of the wind and the sand… and the internal landscape of thoughts and emotions.
FREE, No need to register. Just show up and look for the Monterey Bay Meditation Studio flag!
Please dress warmly with layers and bring a beach chair if you'd like.
For more information visit
seemonterey.com
September 22nd, 2019
Sacred Heart Church International Festival
Time: 10:00am – 5:30pm Location: Corner of Market & Stone St., Salinas CA Join us on Sunday, September 22, for our annual Parish Festival – food, games, music, and a raffle! For more information visit 
https://www.shsalinas.org/featured-events/international-festival-festival-internacional/
.

October 2nd, 2019
Coffee with a Cop
Hosted by McDonald's
Time: 8:30am – 10:00am Location: 1215 S. Front St. Soledad, CA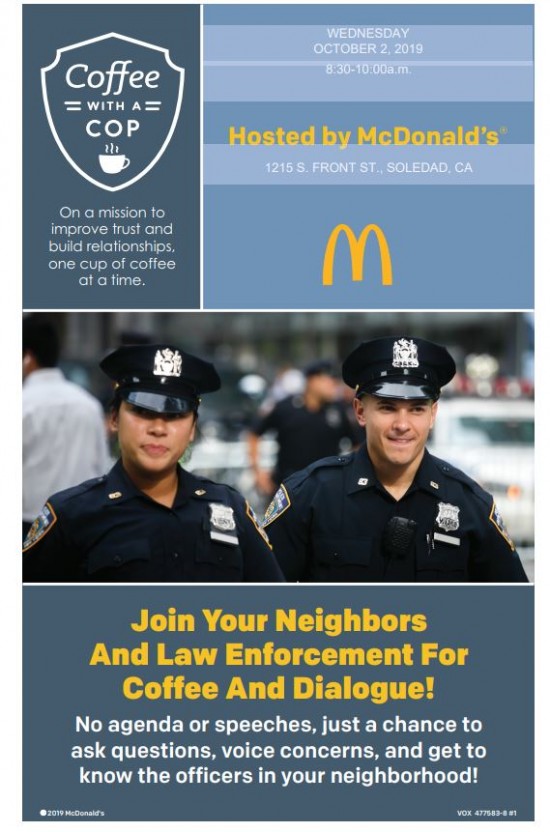 October 5th, 2019
Harvest, Hops and Hounds
Times: 3:30pm –7:30pm
Location: 8022 Soquel Drive, Aptos Village Harvest, Hops & Hounds is an outdoor farm to table dining event with your dog. The sumptuous, catered farm fresh dinner includes a variety of dishes by Perez Catering and local wines and beers. Entertainment includes music and dancing following dinner. Demonstrations of Agility, Disc Dogs and Treibball are scheduled before dinner. Off leash play is offered for dog friendly dogs. The funds will go to support Unchained and the Santa Cruz County Animal Shelter education programs. Unchained pairs at risk youth with shelter dogs for motivational training, making the shelter dogs more adoptable and exposing at-risk youth to reward-based dog training. For more information and to purchase tickets visit C-DOG's website 
coastaldogs.com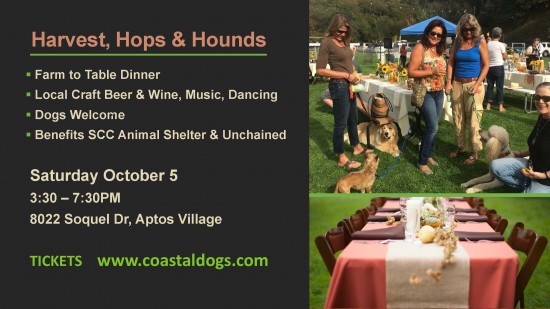 October 6th, 2019
55th Annual Carmel Mission Fiesta
Time: 11:00am – 5:00pm Location: Carmel Mission Courtyard, Rio Road & Lasuen Drive, Carmel-By-The-Sea Save the Date for the 55th Annual Carmel Mission Fiesta which is on Sunday, October 6, 2019 from 11-5 this year! The historic Carmel Mission opens its breathtaking courtyard to the public at 11 a.m. where there will be the opportunity to purchase fresh made to order food from local food trucks, El Jeffe margaritas, wine, drinks. Your children will enjoy the newly revamped kids zone which is sure to entertain (and tire the little ones out). At noon, festivities commence with a mariachi band in the Courtyard. The entertainment continues with Aztec Dancers. Then, you can dance the day away with The Money Band or shop the local artisan wares while you listen to this local favorite! The new principal Steve Henderson will MC the event and announce the raffle prizes throughout the day. Don't miss your chance to win the Grand Prize valued at $1000! For more information or to purchase raffle tickets, contact
Fiesta@juniperoserra.org

or visit

 
https://carmelmission.org/?post_type=event&p=1760
.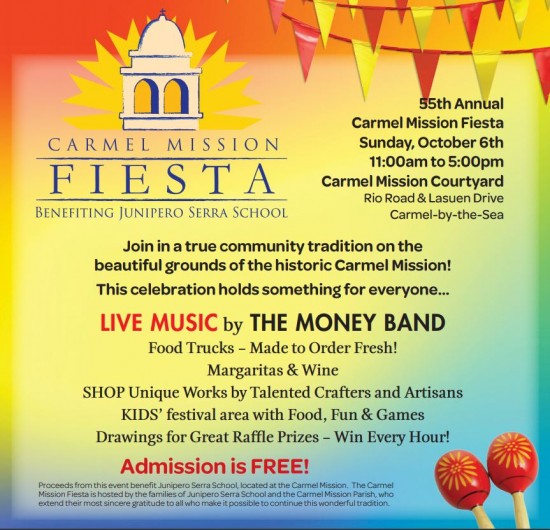 October 12th, 2019
Hope Horses & Kids 5th Annual BBQ & Auction
Time: 1:00 PM – 5:00 PM Location: Rancho El Portero, 27050 Rancho San Carlos Road, Carmel Valley Hope, Horses & Kids provides safe and affordable Equine Assisted Learning (EAL) opportunities to individuals of all ages who live with physical, cognitive and emotional challenges. These activities promote developmental and educational skills while building confidence, through the quiet strength of the horse. In addition to the selection of highly sought after silent and live auction items, the afternoon will include a delectable offering of world-class barbecue fare, live music, wine tastings and the opportunity to learn about Hope Horses, & Kids, and experience the Equine Assisted Learning Process first hand during our equine demonstrations! For more information, please contact Valerie Fermor at (408) 838 0652 or visit
https://www.hopehorseskids.org/shop
.
Email your community events at least two weeks in advance to: KCBACalendar@entravision.com