January 19th, 2018
Theory & Philosophy Reading Group: Friendship as a Form of Life
Old Capitol Books
This month, at the 
Theory and Philosophy Reading Group
 at 
Old Capitol Books
 in collaboration with the Direct Action Monterey Network, we'll explore the radical potential of friendship, discussing a collection of short essays by Foucault, Agamben, Deleuze, Cixous, Bonanno, and others. Come talk about theory, philosophy, and how it relates to current events with a friendly group of readers and thinkers. For more information, please visit
https://oldcapitolbooks.com/2017/12/17/theory-philosophy-32-friendship-as-a-form-of-life/
.
January 20th, 2018
Blood Drive for the American Red Cross
Northridge Mall
Time: 9:00am – 3:00pm Location: 796 Northridge Mall, Salinas, CA 93906 Northridge Mall will be hosting a Blood Drive on Saturday, January 20th, 2018 from 9:00am-3:00pm in the Northridge Mall Community Center. Together we can spread hope and give something meaningful. Give blood and you can help save up to three lives! To schedule your appointment, please call the mall office 831-449-7227 or log on to 
redcrossblood.org
, enter the Sponsor Code: NRMALL or call 1-800-REDCROSS. If you have any questions regarding your eligibility to donate blood, please call 1-866-236-3276.
January 27th, 2018
The Half Marathon at Pebble Beach
Pebble Beach Resorts
Time: 7:00am Location: Pebble Beach Resorts, 2700 17 Mile Drive, Pebble Beach, CA The Half Marathon, 10k, and 5k will run throughout Pebble Beach, with the majority of each course featuring scenic views of 17-Mile Drive and the breathtaking property before finishing with a post-race champagne brunch at The Inn at Spanish Bay. For more information, please visit
https://www.pebblebeach.com/events/#events-tab_2
.
January 27th, 2018
35th Annual Mission 10 Race
Rotary Club of Hollister
Time: 8:00am Location: Mission Green 406 Second Street San Juan Bautista, CA 95045 This event is in its 35th year. It is sponsored by the Rotary Club of Hollister and all proceeds go to benefit local scholarships and charities. San Juan Bautista is a small California Mission town just off Hwy 101 appoximately 50 miles south of San Jose. The four races: 1/2 marathon, 10 miles, 5k and 1 Mile kids fun run, all start and finish in front of the historic and beautiful San Juan Mission. The area is rural and the course takes runners through farm land and up the Anzar hills. Medals are awarded three deep in standard age categories. The 1/2 marathon and 10 mile races (both TAC Distance Certified) are particularly good training for upcoming spring marathons. Theme teams encouraged and trophies will be awarded to top teams. (Please keep costumes family friendly), For more information, please visit
h

ttps://www.racemine.com/Mission-10/events/2018/Rotary-Mission-Ten-2018
.
January 27th, 2018
Science Saturday: Amazing Migrations
Pacific Grove Museum of Natural History
Time: 10:00am to 3:00pm Location: Pacific Grove Museum of Natural History, 165 Forest Ave, Pacific Grove, CA Science Saturday: "Amazing Migrations" will be held from 10 a.m. to 3 p.m. Saturday, Jan. 27, and features a peek into the fantastic world of wildlife migration. There will also be a celebration of Sandy the Whale's birthday, with an appearance by Larry Foster, the artist who made Sandy, for a talk and Q & A about the beloved whale on the Museum's front porch. Kids and adults alike can learn the stories of local migrators while completing a craft, activities, and games throughout the museum. For more information, please visit
http://www.pgmuseum.org/
.
January 27th & 28th, 2018
Whalefest Monterey
Monterey Fisherman's Wharf Association
Time: 10:00am – 5:00pm Location: Old Fisherman's Wharf, 1 Old Fisherman's Wharf, Monterey, CA The Monterey Fisherman's Wharf Association is proud to again sponsor and hold the 8th ANNUAL WHALEFEST MONTEREY at and around Old Fisherman's Wharf, in Monterey, California. This free fun and educational, interactive family event for all ages celebrates the migration of the gray whales. The event also benefits many local and national marine organizations that inspire, educate, explore and empower the public to protect the Monterey Bay National Marine Sanctuary. For more information and Whalefest Monterey updates, go to
www.montereywharf.com
.
January 28th, 2018
Bridal Expo at the Boardwalk's Cocoanut Grove
Santa Cruz Beach Boardwalk
Time: 11:00am to 4:00pm Location: 400 Beach Street, Santa Cruz, California 95060 Find all the information you need to plan the perfect wedding! Check out the area's best photographers, florists, caterers, bakers, wedding and reception venues, entertainment, and other important services. Enjoy bridal fashion shows in the Sun Room and register to win a romantic weekend getaway valued at over $1,000! For more information, please visit
https://beachboardwalk.com/Bridal-Expo
.
February 11th, 2018
Carrie's Dream Dance Showcase
We hope you will be able to attend and support the fourth annual Carrie's Dream Dance Showcase. The shows will be a stunning celebration of many of our community's youth dancers. Sure to be events you will not want to miss! There are two shows to choose from, one at 1:00 p.m. and one at 5:00 p.m. Please make sure you purchase tickets for the correct show time. Doors will open 30 minutes before showtimes. The performances will showcase the works of dancers from Pacific Arts Complex, several other Bay Area dance studios, as well as the Aptos High School Dance team. Both shows will feature an incredible lineup that will include jazz, lyrical, hip hop & contemporary dance numbers! There will also be live and silent auction events featuring an array of artisan items, gift certificates, retail merchandise, a bake sale and more! Advance tickets available for online purchase, tickets also available at both Pacific Arts Complex Studios and tickets will also be sold at the door the day of the event, if available. All proceeds from the events will go to the Carrie's Dream Scholarship Fund and will benefit aspiring dancers in need at Pacific Arts Complex. Carrie's Dream Scholarship fund was created in memory of our beloved friend and teacher, Carrie Dianda McCoid. Carrie was an inspiration to all who knew her. She envisioned a community where every child who wanted to dance would be given the opportunity to do so, regardless of their financial circumstances. Together, we can help bring her dream to life. When: Two Shows on Sunday 02/11/2017 First show at 1:00 p.m. and Second show at 5:00 p.m. Where: Aptos High School Performing Arts Center 100 Mariner Way Aptos, CA To purchase tickets, please visit
https://www.brownpapertickets.com/event/3224458
. For more information about Carrie's Dream, please visit
https://www.carriesdream.org/
.
Community Foundation for Monterey County
Big Sur Relief Foundation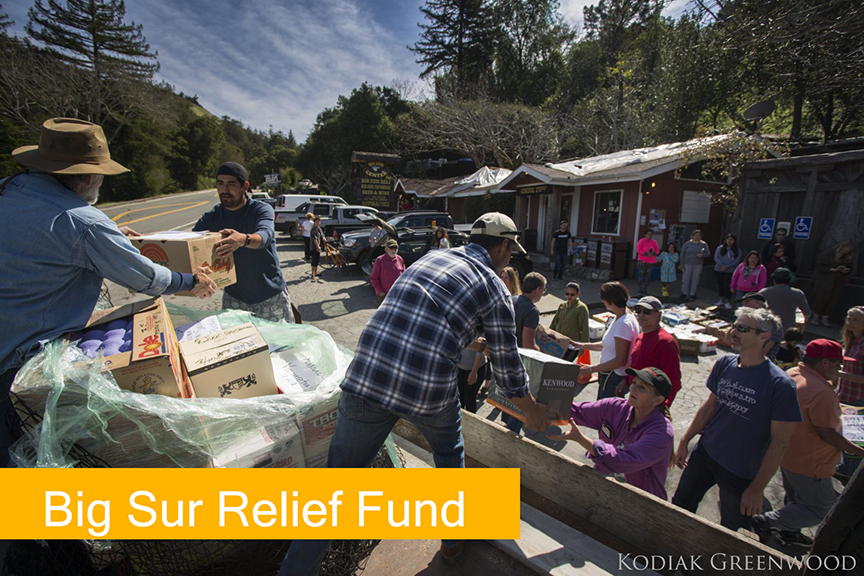 The devastating Soberanes Fire and this winter's heavy rains have caused tremendous hardship for Big Sur residents, employees and their families. HWY 1 is closed with massive mud slides, and Pfeiffer Canyon Bridge – the lifeline that connects the North and South – has been declared unsafe and has been condemned. Iconic businesses like Esalen, Nepenthe, Deetjen's Big Sur Inn, Ventana, and Post Ranch are all temporarily closed. Over 1,000 Big Sur employees are out of work, and hundreds of families have been displaced. Thousands of people are in need of food, housing, and immediate assistance. In light of these unique and challenging circumstances, several businesses have come together to raise funds to provide relief for local individuals and families. The Big Sur Relief Fund at the Community Foundation for Monterey County (CFMC) will provide relief and emergency assistance to those affected.
Donate Now
Your gift will support the affected residents and individuals working in Big Sur in Monterey County, California and is fully tax deductible. 
100% of donations will be used for relief and assistance.
For more information on how to donate visit 
www.cfmco.org/BigSurRelief
 or
Mail a check: Community Foundation for Monterey County 2354 Garden Road, Monterey, CA, 93940 "Attention: Big Sur Relief Fund"
Donate by Phone Call 831.375.9712 Monday through Friday 8:30 AM to 5:00 PM
Contribute Appreciated Stock Please contact Christine Dawson, Vice President of Philanthropic Services, for details at 831.375.9712 ext 126.
All donations to the Big Sur Relief Fund are tax deductible. Tax ID # 94-1615897
Email your community events to: KCBACalendar@entravision.com