October 27th, 2017
Domestic Violence Awareness Month Luncheon
YWCA Monterey County
The YWCA Monterey County is hosting a special luncheon for Domestic Violence Awareness Month. Head to InterContinental The Clement in Cannery Row from 11:30am to 1:30pm to show your support! Keynote Speaker: Taylor Armstrong TV personality, "The Real Housewives of Beverly Hills", philanthropist, author and survivor. Taylor Armstrong is an outspoken domestic violence victim's advocate and the President of the Taylor Armstrong Foundation, a non-profit organization supporting victims and their families. She is a New York Times Bestselling Author for her book, Hiding from Reality, in which she shared her personal story of surviving abuse. Taylor is best known for her role on Bravo's Real Housewives of Beverly Hills. She has also appeared on television shows for VH1, WeTV and Oprah's OWN network. Time:11:30 am to 1:30 pm Location: Intercontinental The Clement Monterey, CA Attending this luncheon is one of the best ways to support domestic violence awareness efforts in our community! Learn more here:
https://www.eventbrite.com/e/ywca-monterey-countys-domestic-violence-awareness-luncheon-2017-featuring-taylor-armstrong-tickets-37929277490
October 28th, 2017
21st Annual  STRIKE OUT AGAINST CANCER
WomenCARE
All ages are invited to WomenCARE's 21
st
annual STRIKE OUT AGAINST CANCER bowling benefit to be held Saturday October 28
th
at Santa Cruz Boardwalk Bowl. There are three sessions starting at 1:00pm. Each team member collects pledges and bowls one game. If you are not able to attend, you can create a Virtual Team online and collect pledges. Costumes are encouraged! This fun event is to increase awareness about our cancer support programs while also raising funds! No bowling experience needed! For more information or to register your team, call 831-457-2273, email
bowling@womencaresantacruz.org
or register online at
www.StrikeOutAgainstCancer.org
October 28th, 2017
Science Saturday: Bats, Spiders and Snakes
Pacific Grove Museum of Natural History
It's that time of the year. Celebrate Halloween and learn about bats, spiders and snakes with Science Saturday: Bats, Spiders and Snakes on Saturday, October 28th, from 10 a.m. to 3 p.m. Science Saturday is free and open to everyone! Price: Free Time: 10:00 AM to 3:00 PM Location: Pacific Grove Museum of Natural History, 165 Forest Ave, Pacific Grove, CA For more information, please visit
http://www.pgmuseum.org/museum-events/2017/10/28/science-saturday-bats-spiders-and-snakes
October 28th, 2017
National Make A Difference Day Natividad Park Clean-Up
Celebrate Make A Difference Day, the largest National Day of Service, with Return of the Natives! On October 28nd, we will meet at Natividad Creek Park for a day of service and fun! Ongoing restoration efforts by volunteers at Natividad Creek Park have made this a thriving and beautiful community park and healthy wildlife habitat! Volunteers are invited to help keep this habitat clean and healthy by picking up trash, painting over graffiti, pruning trees and shrubs, and pulling harmful invasive weeds. Everyone is welcome! Volunteers are needed! A great family activity that is FREE. Tools, snacks, and water provided. Bring your community service forms to get hours. Volunteer groups of 10 or more please RSVP. If under the age of 18 please have your parent or guardian sign a waiver prior to the event. Visit:
https://csumb.edu/ron/service-event-calendar
. Weather Policy: The event will be postponed only if it is raining hard on the day of the event. Event postponement will be posted on our website
https://csumb.edu/ron
, our Facebook page, and a voicemail recording on the 582-3686 line by 8:30am on the day of the event. Location: Natividad Creek Park, 1395 Nogal Dr, Salinas, CA Phone: (831) 582-3686 Time: 10:00 AM to 1:00 PM Price: FREE For more information go to our website
https://csumb.edu/ron
, email
gibarra@csumb.edu
or call (831)-582-3686.
October 29th, 2017
Charity Golf Tournament to Support Firefighters with Cancer
Presented by CAL FIRE Local 2881 and the CAL FIRE Firefighters Benevolent Foundation
No One Left Behind is hosting a Charity Golf Tournament at the Half Moon Bay Golf Links to support firefighters with cancer. Register today to enjoy an 18-hole scramble, kids breakfast, family BBQ and more! CAL FIRE Local 2881 and its Benevolent Foundation created a funding mechanism called NO ONE LEFT BEHIND to benefit our mission in helping Firefighters and their family members who are diagnosed with cancer. CAL FIRE is California's Fire Department and the 2nd largest fire department in the United States. The goal of the CAL FIRE Firefighters No One Left Behind is to raise funds throughout the year by hosting many events up and down California while also encouraging healthy activity in a family friendly environment. This also allows us to address the importance of cancer awareness that can help Fire Department members everywhere who are diagnosed with cancer and help bring awareness about what we can do to keep cancer out of the workplace and environments that Firefighters are exposed to every day. Researchers have found that compared to non-firefighters, firefighters are twice as likely of developing testicular cancer, 50% higher risk for myeloma & non-Hodgkin's lymphoma, and 28% higher risk for developing prostate cancer. From the carcinogens they breathe putting out a fire, to the exhaust fumes they inhale when in the engine bays, these daily occurrences cause an increased risk of developing cancer among firefighters. Cancer is becoming a leading cause of death among firefighters! "I felt completely overwhelmed. Talking to a cancer survivor made me feel more comfortable and gave me a go to person throughout the whole diagnoses process. " — Kevin Fleming, Fire Captain/CAL FIRE, Cancer Survivor On October 29th, 2017 No One Left Behind will be hosting a Charity Golf Tournament at the Half Moon Bay Golf Links, Half Moon Bay, California. Presented by CAL FIRE Local 2881San Mateo- Santa Cruz and the CAL FIRE Firefighters Benevolent Foundation to benefit Firefighters with Cancer and the Firefighter Cancer Support Network. Schedule: 7:00 AM Casual Golfer's Breakfast 8:30 AM Shotgun, Old & Ocean Courses 10:00 AM Children's Breakfast w/ Firefighters 2:00 PM Family BBQ, Reception & Static Display 3:30 PM Comments from Command Leader Register today at
http://www.nolb-l2881.org/hmb
October 31st , 2017
The Cabrillo Symphonic Winds – A Spooky Halloween!
Cabrillo College
Get in the Halloween spirit by listening to a collection of spooky music, performed by the Cabrillo College Symphonic Winds. Free candy and free admission for kids in costume! Time: 7:30pm Location: at Samper Recital Hall, 6500 Soquel Drive, Aptos, CA For more information, please contact MR. JON NORDGREN, DIRECTOR OF INSTRUMENTAL MUSIC at
831-477-5653
November 19th, 2017
Bubbles and Bags
Girls Inc. of the Central Coast
Girls Inc. of the Central Coast (GICC) is pleased to announce our fall fundraiser:
Bubbles and Bag, Sunday, November 19, 2017, from 1pm-4pm at the Inn at Spanish Bay in Pebble Beach.  
Join us for the event and shop for a great cause! Sip champagne, socialize and purchase some fabulous handbags to add to your collection or to give as holiday gifts.
To purchase tickets
First Peek Preview at 1:00 PM-2:00 PM (For "Buy it Now" Purchase only) Tickets $100 Silent Auction 2:00 PM-4:00 PM Tickets $ 35.000
https://www.eventbrite.com/e/girls-inc-bubbles-bags-event-tickets-35385220146
To Donate Bags
Last year more than 500 handbags were donated to the event.  Our goal for 2017 is to top that number, but we need your help!  We are collecting handbags 
NOW
 and will do so until 
Friday, October 6, 2017
.  We hope that you and your friends have good quality handbags that you would like to donate to the cause.  We are looking for:
"Like New" handbags that no longer suit your taste
New bags you have never used
High-end/Designer bags
Everyday and evening bags
Wallets in very good condition
Bag donation locations: Fenton & Keller, 2801 Monterey-Salinas Highway, Monterey, CA 93940 
(831) 373-1241
, or you may contact Girls Inc. 
(831) 772-0882
girlsincbubblesandbags@gmail.com
 to arrange for pick-up.  The Salinas donation location is the Girls Inc. of the Central Coast office at 318 Cayuga St, Suite 101A, Salinas, CA 93901. For more information, call 
(831) 772-0882
. For More information, contact Patty at 
pattygirlsinccc@gmail.com
 or 
(831) 772-0882
.
About Girls Inc. of the Central Coast
Girls Inc. of the Central Coast is an affiliate of Girls Inc., a national organization and the country's leading research and evaluation organization on issues pertaining to girls and young women. We are the first affiliate to offer programs completely facilitated by teens. We work with girls ages 8 to 18 with proven "girl-focused" programs at our outreach sites throughout Monterey, San Benito, and Santa Cruz Counties. Each year, we serve over 1,400 girls in 33 schools in 9 cities. Our mission is to inspire all girls to be strong, smart, and bold and to respect themselves and the world around them.   If you are interested in joining or would like more information, please contact the Girls Inc. of the Central Coast office at 
(831) 772-0882
.  For more information visit our website
Contact: 
Patty Fernandez Executive Director Tel: 
831-772-0882
Fax: 
831-772-0773
Email:
pattygirlsinccc@gmail.com
Community Foundation for Monterey County
Big Sur Relief Foundation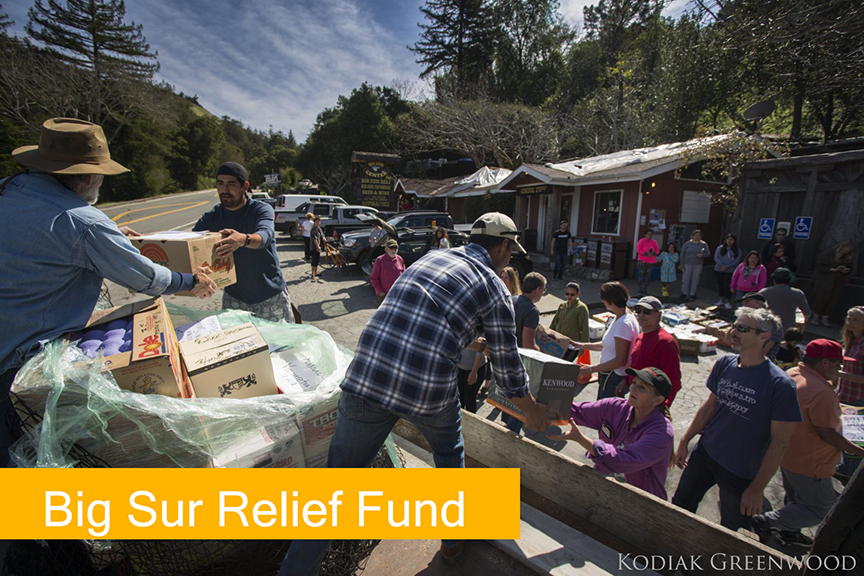 The devastating Soberanes Fire and this winter's heavy rains have caused tremendous hardship for Big Sur residents, employees and their families. HWY 1 is closed with massive mud slides, and Pfeiffer Canyon Bridge – the lifeline that connects the North and South – has been declared unsafe and has been condemned. Iconic businesses like Esalen, Nepenthe, Deetjen's Big Sur Inn, Ventana, and Post Ranch are all temporarily closed. Over 1,000 Big Sur employees are out of work, and hundreds of families have been displaced. Thousands of people are in need of food, housing, and immediate assistance. In light of these unique and challenging circumstances, several businesses have come together to raise funds to provide relief for local individuals and families. The Big Sur Relief Fund at the Community Foundation for Monterey County (CFMC) will provide relief and emergency assistance to those affected.
Donate Now
Your gift will support the affected residents and individuals working in Big Sur in Monterey County, California and is fully tax deductible. 
100% of donations will be used for relief and assistance.
For more information on how to donate visit 
www.cfmco.org/BigSurRelief
 or
Mail a check: Community Foundation for Monterey County 2354 Garden Road, Monterey, CA, 93940 "Attention: Big Sur Relief Fund"
Donate by Phone Call 831.375.9712 Monday through Friday 8:30 AM to 5:00 PM
Contribute Appreciated Stock Please contact Christine Dawson, Vice President of Philanthropic Services, for details at 831.375.9712 ext 126.
All donations to the Big Sur Relief Fund are tax deductible. Tax ID # 94-1615897
Email your community events to: KCBACalendar@entravision.com